Gay by Degree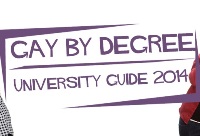 Gay by Degree
Aberystwyth is one of the best universities in the UK for supporting gay, lesbian and bisexual students according the latest version of Stonewall's Gay by Degree University Guide 2014.
With a score of 9 out of 10, Aberystwyth is one of 21 universities named as Stonewall Diversity Champions. The average university score is 4.5.
Aberystwyth received Stonewall's tick of approval for its anti-homophobic bullying policy and mandatory training, explicit welfare support and information for LGBT students, LGBT society and events, consultation and specific care for LGBT students, LGBT staff network and engagement with the wider community.
Olymbia Petrou, Equalities Advisor at Aberystwyth University said: "Both student and staff LGBT networks are delighted with the result. The networks work hard to make Aberystwyth a welcoming and friendly environment for all students and staff. We are pleased with the consistent progress that has been made, e.g. AberPride is the most attended LGBT student society in Wales and we are building Queer Theory studies into the curriculum in numerous departments".
The study found that 136 universities had a lesbian, gay and bisexual society, although just 40 engaged with the wider community on gay issues.
Cardiff University and Liverpool John Moores University topped the table. Other universities that scored highly include Birmingham, Canterbury Christ Church, Cumbria, Derby, Portsmouth, Salford, Surrey and University College London.
The 2014 edition of the guide has been produced in consultation with NUS LGBT Campaign. Further information is available at http://www.gaybydegree.org.uk/.

AU23113