Fellow honoured
09 July 2013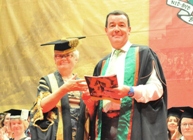 Judge Niclas Parry
His Honour Judge Niclas Parry has been presented as Fellow of Aberystwyth University today, Tuesday 9 July.
A Circuit Judge on the Welsh Circuit and judge on Criminal Law cases at the Crown Court, he was presented by Dr Glenys Williams from the University's Department of Law and Criminology.
Inspired by his late mother's experiences as a Justice of the Peace, Niclas was keen to follow a career in the Law and graduated from Aberystwyth where he was also a head warden for Pantycelyn Hall.
On completion of his studies, he followed a career as a lawyer, specialising in criminal and family law. Niclas is also a well-known sports presenter and commentator on radio. Recently honoured as a member of the National Eisteddfod's Gorsedd of the Bards he is known as Niclas y Llais (Niclas the voice)!
Presentation of His Honour Judge Niclas Parry by Dr Glenys Williams.
Niclas was born in Halkyn, Flintshire, one of twins. He was educated at Riverside Primary School, Mold, where his father was headmaster, and then at Ysgol Maes Garmon, Mold, where his mother was head of English. Niclas was Head Boy at the school.
Having been motivated to study law from hearing about his late mother's experiences as a Magistrate, he graduated with honors in Law at Aberystwyth University.
He also headed up the student body at Pantycelyn, the Welsh-medium Hall of residence during this time.
He undertook his solicitor's training with Llewelyn Jones and Co., Mold, under the auspices of the late Armon Ellis OBE, who also graduated here at Aberystwyth. Niclas was a partner at the firm until 2010, specializing in both criminal, and family law.
He was appointed as a Recorder on the Wales Circuit in 2000, and then as a Circuit Judge in 2010. He sits in the Crown Court, mostly in North Wales, and specialises in Criminal Law.
Niclas is also well known as a sports presenter and commentator on radio and television (both in Welsh and in English). He is a Drama producer with Ruthin Drama Company, and a former member of the S4C Authority. He is also an elder in the chapel of Gellifor, in the Vale of Clwyd.
Niclas has been stage leader at the National Eisteddfod, the Urdd National Eisteddfod AND the Llangollen International Eisteddfod for a number of years.
He was honored with receiving the Wisg Wen (the White coloured robes) at the Wrexham and District National Eisteddfod 2011, and in the Gorsedd (the Bardic Institution of the Eisteddfod), he is known as Nicholas the Voice! He is President of the National Eisteddfod in Denbigh this Summer, and is Chairman of the Finance Committee.
Married to Sioned, Niclas is a father of two daughters, Anna who is a trainee solicitor (obviously following in her father's footsteps!) and Rebecca who is a doctor.
He also tells me that he rears chickens! As do I.
On that less than legal note, Mr. President, it is indeed an honour and a pleasure to present to you His Honour Judge Niclas Parry, as a Fellow of Aberystwyth University
Mr Llywydd, mae'n wir fraint ac yn bleser gennyf gyflwyno'r Anrhydeddus Farnwr Niclas Parry, i chi fel Cymrawd Prifysgol Aberystwyth.
AU24213

Back to the top
Contacts
Arthur Dafis
Communications and Public Affairs
01970 621763 / 07841 979 452
aid@aber.ac.uk