Desert eye test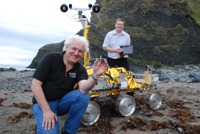 Professor Dave Barnes (left), holding a prototype of the PanCam colour calibration target, and Dr Stephen Pugh during trials undertaken with 'Bridget', a full size Exo-Mars-like rover held at Clarach beach near Aberystwyth in 2010.
A space scientist from Aberystwyth University will be travelling to Chile's Atacama desert later this week as preparations for the 2018 ExoMars mission to Mars continue.
Dr Stephen Pugh from the Institute of Mathematics, Physics and Computer Science (IMPACS) will be working on the ExoMars Panoramic Camera Instrument (PanCam) during a seven day field trial which starts on Monday 7 October.
PanCam will be the science 'eyes' for the mission and will feature a novel colour correction system to ensure that images sent back to earth truly represent the colours on Mars.
Featuring small stained-glass coloured chips manufactured using a process similar to that used in medieval times, the PanCam colour calibration target measures just 50 mm × 50 mm, 18 mm high and weighs no more than 25 grams.
The Aberystwyth PanCam work is led by Professor Dave Barnes, who will be based at mission control at the Rutherford Appleton Laboratories during the trial, along with other PanCam team members.
"Learning how to operate the PanCam instrument on Mars will be vital to the success of the mission, and this field trial in the Atacama desert in Chile is a significant step in its development", said Professor Barnes.
"This will be the first time that the instrument prototypes will be integrated with an ExoMars development rover and tested in such an environment."
"Mars has little to no ozone in the atmosphere and this means that the high ultra violet radiation can cause colours to fade when exposed to sunlight. The stained-glass idea comes from observing the many stained-glass windows in churches, many of which date back to medieval times. These have been exposed to sunlight for centuries and show little to no colour degradation.
"Scientists want the returned images to be colour corrected (as if they were being viewed by a human) to help them in identifying potential science targets for further investigation", added Professor Barnes.
The Aberystwyth team will be responsible for processing the images taken by PanCam using a variety of computer vision techniques and algorithms developed at Aberystwyth.
A third member of the Aberystwyth team, Dr Laurence Tyler, will also be based at the Rutherford Appleton Laboratories during the trial.
The ExoMars mission is led by the European Space Agency (ESA) and Russian Space Agency (Roscosmos).
The SAFER (Sample Filed Acquisition Experiment with a Rover) field trial is performed by an industrial team in the frame of a Research and Development contract of ESA's Directorate of Technical and Quality Management.
Funding for the Aberystwyth University work has been provided by the UK Space Agency.
The SAFERfield trial takes place in Paranal in the Atacama desert, Chile, and runs from Monday 7 until Sunday 13 October.
Follow the SAFER field trials blog at http://safertrial.wordpress.com/
ExoMars at Aberystwyth
A series of outdoor field trials featuring 'Bridget', a full size ExoMars-like rover, were conducted in Clarach beach near Aberystwyth during the summer of 2010. During the trials the Aberystwyth PanCam emulator cameras were mounted onto the mast structure and pointed at potential science targets using a pan and tilt unit, with images captured by its two wideangled cameras and its zoom high resolution camera.

AU32713