Pantycelyn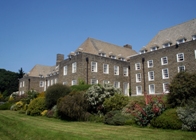 Pantycelyn
Aberystwyth University is fully committed to increasing its Welsh medium provision and in so doing, to ensure that our students are able to contribute to maintaining the University's Welsh language community ethos.
The University is investing over £45m at the Penglais Farm residences and as part of the development there will be a dedicated area for Welsh language students with a particular social area for Welsh speakers. This will be located close to the main Hub building and shared by all the Penglais Farm residents.
The new accommodation will be of a very high standard, comprising self-catering flats with between 6 and 8 bedrooms each; they will all have en-suite facilities, kitchen/eating area/lounge and TV.
These are early days in the consideration of the future use of the Pantycelyn building. However, the University will now begin a business exercise to explore options for the future of Pantycelyn.
Pantycelyn will therefore remain as a Welsh medium hall (as it is currently) during the academic year, 2014/15.
Student representatives have been part of the discussions all along on the nature of the new accommodation and the facilities available to them.
The Vice-Chancellor Professor April McMahon and the Pro Vice-Chancellor for Welsh Language and Culture and External Relations had a constructive meeting with representatives UMCA (Undeb Myfyrwyr Cymraeg Aberystwyth) after today's 'rali'.
The University now looks forward to continuing its discussions with Welsh medium students, the Pantycelyn Hall committee and UMCA about the Penglais Farm facilities and how to build and develop the Welsh language ethos there.

AU35113