Women in the age of revolution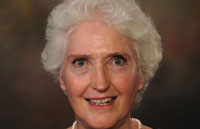 Professor Paula Backscheider, Auburn University, Alabama
Professor Paula Backscheider from Auburn University, Alabama will deliver the inaugural lecture for the Institute for Literature, Language and Creative Arts at Aberystwyth University this evening, Tuesday 8 October 2013.
The lecture, "Fashioning War-Time: Women in the Age of Revolution, 1775-1815", takes place in the Great Hall at Aberystwyth Arts Centre and will start at 6:00pm.
In the lecture Professor Backscheider will look at theatre, fashion, opera, art, literature and politics during this period and explore how the needs and demands of the nation were communicated and accepted among women.
Professor Sarah Prescott, the Institute's Director, explains, "We're delighted to welcome Professor Backscheider to Aberystwyth University."
"The London stage at this time was the most influential shaper of political and social opinion. No other genre had its own personal censor. Two of the most influential kinds of wartime women were playwrights and women characters fashioned to model what a wartime woman should be."
Professor Backscheider specialises in restoration and eighteenth-century literature, feminist criticism and cultural studies.
She is the author of several books including Daniel Defoe: His Life (winner of the British Council Prize), Spectacular Politics, Reflections on Biography, and Eighteenth-Century Women Poets and their Poetry: Inventing Agency, Inventing Genre (winner of the Modern Language Association Lowell Prize).
The lecture is a public lecture and all are welcome.
au36113