Arts Centre Director appointed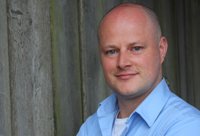 Gareth Lloyd Roberts
Gareth Lloyd Roberts, currently Producer at Wales Millennium Centre in Cardiff, has been appointed Director of Aberystwyth Arts Centre.
A fluent Welsh speaker, Gareth joined Wales Millennium Centre in 2004 and has worked in various roles, including Programming Officer and Programmer.
Gareth was appointed to the post of Producer in June 2010. He is responsible for developing and nurturing talent, programming and producing new work as well as facilitating and booking tours of all in house productions at the Centre.
He supervises Incubator, the Centre's creative development project and was responsible for producing the recent tours of Ma' Bili'n Bwrw'r Bronco (a co-production with Theatr na nÓg) and I'm With the Band (a co-production with the Traverse Theatre Company), which is currently on tour and at Aberystwyth Arts Centre 14 and 15 October.
Gareth is also the primary creator and organiser of the Centre's highly successful annual Blysh Festival of circus, cabaret and street art which is now in its fifth year.
He is currently part of the team producing the opening concert for WOMEX 2013: the World Music Expo (a co-production with Cerdd Cymru) which opens in Cardiff on 23 October, and worked with the team that successfully bid for and brought the event to Wales.
Speaking of his appointment, Gareth said; "I am thrilled and honoured to be joining the team at Aberystwyth Arts Centre and look forward to us working together to create and develop new, innovative and dynamic work to complement the already extensive and attractive creative programme.
"I have always been enthusiastic and passionate about the arts and I hope to bring this energy to the role, as well as always ensuring that audiences and the community are at the heart of everything we do.
"I'm very much looking forward to meeting and getting to know the staff at the Arts Centre and wider University as well as the people and the landscape of Aberystwyth.
"I would also like to acknowledge and thank everyone I have had the privilege of working with at Wales Millennium Centre since 2004. They are inspirational and I will miss them all and remember my time at the Centre fondly."
Professor April McMahon, Vice-Chancellor at Aberystwyth University has welcomed the appointment. "I am delighted that the University has been able to appoint an excellent individual to lead Aberystwyth Arts Centre. Gareth has a wealth of experience, knowledge and energy and I am confident that he will be able to successfully lead the Arts Centre together with the Arts Centre's Advisory Board, for the benefit of our local and global communities, including our community of students and staff."
The appointment has also been welcomed by David Alston, Arts Director with the Arts Council of Wales. "At the Council, we now look forward to working with the newly appointed Director, the team at the Arts Centre and the recently formed Institute within the University. There are fantastic and acknowledged achievements to build on, and a rich and involving programme to develop confidently, as everybody now renews the focus on the future plans and ambitions for Centre. The Centre has a dynamic role in the region, nationally and internationally. The Arts Council will want to continue to support and help develop this potential."
Professor Sarah Prescott, Director of the Institute of Literature, Languages and Creative Arts commented: "I look forward to welcoming Gareth to the Institute's Executive team and to working with him to deliver the Arts Centre's Strategic Plan and to develop the Centre's exciting and ambitious vision for the future."
A graduate of Theatre, Music & Media, Gareth is originally from Swansea and studied at Ysgol Gyfun Gŵyr, Trinity College Carmarthen and Central College, Pella, Iowa.
Prior to joining Wales Millennium Centre, Gareth worked as a director, script writer and researcher for Welsh language television producers and also as an actor.
In September 2010 he was seconded to Sadler's Wells Theatre for four months where worked as Artistic Contract Manager.
Gareth takes up the post of Director at Aberystwyth Arts Centre on 11 November.
Aberystwyth Arts Centre is an award winning arts facility and a department of Aberystwyth University; it is the largest and busiest arts centre in Wales, with a wide-ranging programme of events and activities across all art forms as well as a thriving community arts education programme. www.aber.ac.uk/artscentre

AU36713