English and Creative Writing success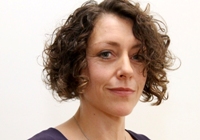 Professor Sarah Prescott
Two members of the English and Creative Writing Department at Aberystwyth University were presented with literary prizes at the launch event of the International Journal of Welsh Writing in English on Wednesday 16 October.
Professor Sarah Prescott and Dr Mary Chadwick are both winners of the M. Wynn Thomas Prize for 2013 and were presented as part of a special celebration event, held at the Callaghan Lecture Theatre at Swansea University.
The M. Wynn Thomas Prize is offered to celebrate outstanding scholarly work in the field of Welsh writing in English. There are two prize categories: the 'Open' category and the 'New Scholars' category.
Professor Prescott, Director of the Institute of Literature, Languages & Creative Arts (ILLCA) at Aberystwyth was successful in the 'Open' category and her one-time PhD student, Dr Chadwick, in the 'New Scholars' category.
Sarah Prescott spoke of her pleasure at receiving one of the awards; "Professor M. Wynn Thomas' own work has been ground-breaking in pushing back the period boundaries of Welsh Writing in English.
"As such, I am honoured to receive this prize as part of my own contribution to the on-going reconceptualization of this literary field to include women writers from the seventeenth century such as Katherine Philips. I am also delighted that Mary Chadwick, whose doctoral thesis I supervised, is succeeding so well in this increasingly vibrant and growing area."
Professor Prescott's essay on Katherine Philips and Archipelagic Coterie Space is based on research funded by The British Academy for the 'Women Writers and Wales, 1600-1800' study, and is to be published in Tulsa Studies in Women's Literature in 2014.
Completing a double for Aberystwyth University is the prize for Dr Mary Chadwick who was successful in the new scholars' category. She graduated from Aberystwyth in 2013 and is now a tutor in the Department of English and Creative Writing.
Mary added, "Winning this prize is a great honour. It's fantastic that the judges recognised Welsh writing in English of the long eighteenth century as an exciting area of research."
Mary's essay, 'Walking Conundrums: Masquerades, Riddles and National Identity in Late Eighteenth-Century Wales', published in the collection Writing Wales from the Renaissance to Romanticism, is an examination of the relationship between the reading and writing habits of members of the North Welsh gentry and their experiences of Welsh, British and English identities.
Professor Prescott spoke at the event as one of a panel of experts, which included Professor M. Wynn Thomas himself, on the future of Welsh Writing in English.
AU38513