Y Gwyll / Hinterland première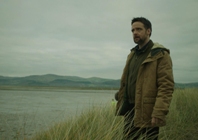 Richard Harrington plays DCI Mathias in Y Gwyll / Hinterland
Aberystwyth University hosts the première of the long awaited international detective drama series Y Gwyll / Hinterland, today, Thursday, 17 October.
In an evening at the University's Old College, a special premiere of Y Gwyll / Hinterland will offer invited guests the chance to enjoy the opening episode in full, ahead of its S4C broadcast on Tuesday, 29 October at 9.30pm.
Aberystwyth University was a key partner during the production of Y Gwyll / Hinterland. Students benefitted from placements and gained invaluable industry insight, as well as networking opportunities to prepare them for their future careers.
Ellen Dingstad from Oslo, Norway is a third year Theatre, Film and Television Studies student at Aberystwyth. She says, "Working along industry professionals was not only educational, but also fun and exciting. I applied for the placement through the encouragement of my lecturers, and was granted the post of 'Producer'.
"My tasks were similar to that of a runner on set, but I was also fortunate enough to get to work in the production office. When my placement ended I was even offered a part time job in the production office.
"The placement has improved my CV and my understanding of what it takes to work in this business. It might not be the easiest profession to get into, but the reward of helping to create something is unsurpassable."
Dr Jamie Medhurst, Head of the Department of Theatre, Film and Television Studies at the University says, "The partnership with Fiction Factory, one of the UK's foremost production companies, during the production of Y Gwyll/Hinterland highlighted how a world-class teaching and research department such as the Department of Theatre, Film and Television Studies was able to provide first class placements for its students, all of whom benefited immensely from working with the company.
"I'm extremely grateful to Fiction Factory for providing such positive experiences for our students and, indeed, staff who worked with them during their time in Aberystwyth. The partnership also demonstrated the Department's commitment to working with the creative and cultural industries in Wales and beyond for the benefit of students, staff and the production company."
Y Gwyll / Hinterland was filmed entirely in Ceredigion, with Aberystwyth and familiar University locations at the heart of the drama.
Welcoming the premiere to Aberystwyth, the University's Vice-Chancellor, Professor April McMahon commented: "I'm delighted that S4C and Fiction Factory have chosen the University as a location for the screening of Y Gwyll/Hinterland. It is already clear that the series truly captures the beautiful landscapes of mid and west Wales which is rightly one of the stars of the show. It really is a place with personality."
Y Gwyll / Hinterland is produced by Fiction Factory in association with S4C, Tinopolis, BBC Cymru Wales, S4C Co-Production Fund and All3Media International Ltd. The series has been produced in both Welsh and English and will be sold to broadcasters across the world. Following its world debut on S4C later this month it will be broadcast on BBC Cymru Wales and BBC Four in 2014 and also by Danish broadcasters DR Denmark – sold through distributors and co-production partners ALL3MEDIA International.
AU32913