Festival of lights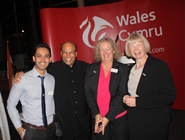 Representatives from Aberystwyth University attended a reception hosted by the Rt Hon Carwyn Jones AM, First Minister of Wales, to celebrate Diwali, the 'festival of lights'.
Celebrated by Hindu, Sikh and Jain communities across the world, Diwali means a row of lamps and represents the victory of good over evil and light over darkness.
The evening reception recognised the valuable contribution made to Wales by the Indian community and Indian companies, such as Tata Steel in South Wales.
Guests included the Indian Honorary Consul in Wales, Raj Aggarwal, members of the local Indian community, cultural organisations from Wales, Welsh Universities and Colleges and representatives from Indian and Welsh companies.
Attendees from Aberystwyth University were Vice-Chancellor, Professor April McMahon; Devendra Bhangale from Mumbai who is studying for an MBA in International Business Administration; and Shan Mumford and Amarjeet Mutneja from the International Office.
The evening ended with a very energetic Bollywood-style demonstration of Punjabi dance and dholki, traditional folk drumming.