Lord Elystan Morgan building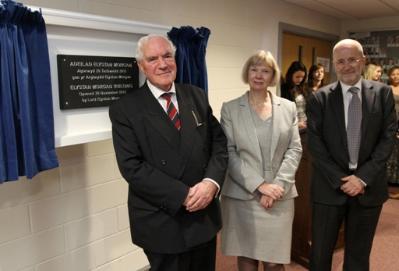 Lord Elystan Morgan, Professor April McMahon and Professor John Williams
Lord Dafydd Elystan Morgan has officially opened the new home of the Department of Law and Criminology at Aberystwyth University, and which now bears his name.
A former Labour MP and Judge, Lord Elystan Morgan was educated at Ardwyn Grammar School in Aberystwyth and Aberystwyth University where he studied law.
Over the years Lord Elystan Morgan has retained a close association with the University and served as its President for 10 years between 1997 and 2007.
The Elystan Morgan Building at the University's Llanbadarn Centre houses more than 850 staff and students. All 119 rooms in the four storey building have been recently renovated, refurbished and equipped with state-of-the-art teaching rooms and IT facilities.
Professor John Williams, Acting Head of the Department of Law and Criminology, explains, "We were delighted to welcome Lord Elystan Morgan back to the University and specifically to the Department to show him the developments that have recently taken place. He studied at Aber from 1951 to 1954 and has very fond memories of his time here.
"He was very impressed with the improvements and what this will mean in to future students. These new rooms and amenities are of huge benefit to our students and staff and include the latest cutting edge technology."
The Institute of Management, Law and Information Science
The Institute of Management, Law and Information Science is based at Llanbadarn Centre which has recently benefited from a £3.5m investment into the teaching rooms, teaching spaces, IT facilities, technology systems, social areas and much more.
The Llanbadarn Centre also has its own dedicated library based in the Thomas Parry building, stocked with all the textbooks, journals, and learning support material, including the latest electronic resources.
University staff members are located in two main buildings at the Centre, which are the Elystan Morgan Building and the Rheidol Building. As part of the renovation work, a brand new food outlet called Blas Padarn.