Sailing Robot flying to India!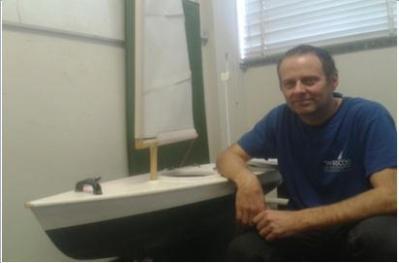 Dr. Mark Neal, Senior Lecturer in the Department of Computer Science.
As part of promoting the University's highly ranked Computer Science degrees in India, the team from the International Office and Computer Science department are planning to take an impressive Autonomous Sailing Robot to Mumbai. The Sailing Robot will be displayed during the upcoming British Council Education UK Exhibition held at the LeelaKempinski hotel on the 26th November 2013.
This Robot is a result of great team work by students & researchers at Aberystwyth University under the direction of Dr. Mark Neal, Senior Lecturer in the Department of Computer Science.
Autonomous sailing robots navigate the ocean for extended periods of time without the need for remote control. This makes them particularly suitable for monitoring sea temperature, surveying glaciers, allowing large scale environmental studies to be carried out at minimal cost and human effort. Amarjeet Mutneja, International Officer for South Asia and Dr. Edel Sherratt from the Computer Science department will be in Mumbai to meet with students, and the Robot will showcase some of the best projects undertaken at Aberystwyth University's Computer Science department.
The University's International Office recognises the importance of showing its prospective students the level of project work and passion that is expected to obtain an offer for its Computer Science courses. Through these events, the team is presenting exciting programmes in Computer Science, all accredited by the British Computing Society. Of particular interest is the MSc in Software Engineering (Computer Science). As part of the trip, Amarjeet and Edel will also be meeting one of the elite Indian Institutes in Mumbai to discuss partnership opportunities within Computer Science.
This is the first time for the Sailing Robot to be taken to Asia, and the team is really looking forward to meeting prospective students and sharing with them the outstanding opportunities available at Aberystwyth University.
For further details on Aberystwyth University in India, visit www.aber.ac.uk/india. To meet the team in India email Amarjeet on asm20@aber.ac.ukor call at 044 7964246740