Investing in diamond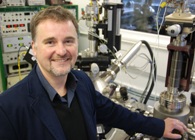 Professor Andrew Evans, project leader at Aberystwyth, has recently developed a new method for producing graphene from diamond
Aberystwyth University is one of eight partner universities to have been awarded a new Centre for Doctoral Training in Diamond Science and Technology (CDT) by the Engineering and Physical Sciences Research Council (EPSRC).
Led by the University of Warwick, the new Diamond Science and Technology CDT also features Bristol, Cardiff, Imperial, Newcastle, Oxford and Strathclyde universities, and around 30 commercial companies.
The creation of the new centre was announced on Friday 22 November by Universities and Science Minister, David Willetts and forms part of a £350m investment by the UK Government to train over 3,500 postgraduate students in engineering and physical sciences.
The new CDT will bring diamond research to a new threshold which promises many pioneering diamond enabled technologies and original scientific insights.
It will deliver innovative and interdisciplinary training and research that will help cross that threshold and impact significantly in many areas of strategic interest.
Professor Andrew Evans, Head of the Department of Mathematics and Physics and the project leader at Aberystwyth University said; "This is a very significant development for Aberystwyth University. We have invested in a team of physicists and mathematicians that specialises in interdisciplinary research using the latest advanced experimental and computational methods, many of which have been developed specifically for the study of materials such as diamond."
"Diamond is the ultimate material in many ways; it is the most transparent, the hardest and the best heat conductor. Synthetic diamonds of high quality can now be made in a wide range of shapes, sizes, colour and electrical conductivity, enabling diamond to be used where conventional materials such as glass, metals and silicon fail, and also paving the way for new technologies such as quantum computers.
"We are looking forward to using experimental and theoretical expertise that has been developed at Aberystwyth alongside our industrial and academic partners in the new CDT to develop the next generation of uses for this remarkable material and to train the next generation of interdisciplinary researchers", he added.
Researchers at Aberystwyth specialise in the physics of diamond surfaces and coatings with molecules, metals, insulators and graphene and also in the interaction of diamonds with light to pave the way for making new quantum structures.
Earlier this year Professor Evans and his team announced that they had developed a new method of producing graphene from diamond. Both these forms of carbon material are likely to be as influential during the 21st century as plastic and silicon were during the 20th century.
The Director of the new Centre, Professor Mark Newton from the University of Warwick said: "Diamond is a highly sought after material, not just because of its aesthetics and allure but because of its un-rivalled utility and multi-functional properties; thermal, mechanical, electrical, optical and more."
"Research on the synthesis, processing and defect engineering of diamond has reached a pivotal and critical threshold: diamond enabled innovative technologies are emerging with the potential for major advances in basic science and end-application performance. For example, specific placement of defects in diamond paves the way for next-generation quantum computers and sensors capable of detecting single atoms. Biocompatible light-emitting particles can be produced by defect-engineering diamond nanoparticles. These can be tracked in the body using powerful microscopes, functionalised for the targeted delivery of drugs or even used to measure the local temperature in a single cell."
The new Centre will bring together 40 leading researchers from the eight partner universities with industrial input embedded throughout.
EPSRC
The Engineering and Physical Sciences Research Council (EPSRC) is the UK's main agency for funding research in engineering and the physical sciences. EPSRC invests around £800 million a year in research and postgraduate training, to help the nation handle the next generation of technological change.
AU41513