University first in Wales to sign Mental Health Pledge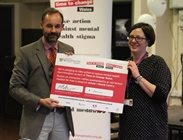 Antony Metcalfe, Time to Change Wales Programme Manager, and Rebecca Davies, Pro-Vice Chancellor at Aberystwyth University
Yesterday, Tuesday 26th November, the University and the Students' Union signed the Time to Change Wales pledge, which puts an action plan together to end the stigma and discrimination faced by people with mental health problems.
Led by a partnership of three leading mental health charities – Gofal, Hafal and Mind Cymru, the pledge was signed in the Students' Union by Rebecca Davies, Pro-Vice Chancellor and Laura Dickens, Students' Union Welfare Officer.
During the event, the Time to Change Wales student society was also launched. Formed by students for students, the society seeks to raise awareness of mental health and actively promote the pledge throughout the University.
Student Union officers were present, including the President, and staff and students from across the University departments including Student Support, Student Wellness Centre and Human Resources. External supporters also included Wendy Morris-Twiddy, Mayor of Aberystwyth.
Rebecca Davies, Pro-Vice Chancellor at Aberystwyth University said: "Equality and diversity is at the heart of University's vision. Both the University and Students' Union offer services that provide support for people concerned about mental health issues. These services include counselling and wellbeing support that are open to all students and staff. Mental health is precious and we are working hard to remove stigma and discrimination.
Laura Dickens, Students' Union Welfare Officer said: "I'm very pleased that in signing the pledge, students will know that their Union and the University are willing to talk about mental health, and I'm looking forward to working with staff on campus towards implementing the actions of this pledge"
Olymbia Petrou, Equalities Advisor said: "Aberystwyth University and the Student Union is the first University in Wales to commit to this Pledge, as well launching the first Time to Change Student Society. We are proud to be leading in this important work and hopes it sends a positive and important message that we care about mental health and want to support an inclusive work and study environment.Our Pledges are a public statement of our aspiration to help tackle mental health stigma and to promote mental health awareness".
Antony Metcalfe Time to Change Wales Programme Manager added:
We are delighted that both Aberystwyth University and Aberystwyth Students' Union are taking these steps to end stigma and get people talking about mental health. Although one in four people experience mental health problems, it can still be a taboo subject. We hope this will inspire other organisations to get involved and work with Time to Change Wales to end mental health stigma.
AU42513