Aberystwyth graduate wins teaching award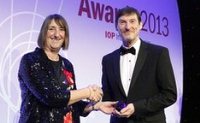 Mr Jones receiving his award from Institute of Physics president Dr Frances Saunders
Stephen Jones was 35-years-old when he gave up his job as a postman of 14 years to study a physics degree at Aberystwyth University.
He enrolled at Aberystwyth University in 2001 and graduated with a first class honours degree four years later.
In November, he was among six award winners of the Teachers of Physics Award 2013 and has been described as an exceptional teacher.
Aberystwyth-born Mr Jones was appointed as a physics teacher at Penglais School in Aberystwyth in 2006 and two years later, became head of physics.
Since his time at Penglais he has developed the introduction of the BTEC Applied Science course, and has introduced the Crest awards scheme for special needs pupils.
He has also developed strong links with Aberystwyth University, giving his students a chance to develop their investigation skills in the undergraduate labs which is an experience that has influenced many students to choose physics at degree level.
AU42613