Pembrokeshire links with Stonehenge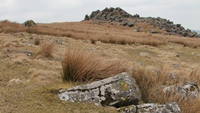 Carn Goedog in Pembrokeshire
Scientists have discovered that the bluestones of Stonehenge originate from Carn Goedog in Pembrokeshire.
A new paper by Dr Richard Bevins, National Museum Wales, Dr Rob Ixer from the Institute of Archaeology at UCL and Professor Nick Pearce from Aberystwyth University, will publish these findings in the Journal of Archaeological Science early next year.
In 2011, research work by Dr Bevins, Professor Pearce and Dr Ixer confirmed for the first time the exact location of the source of some of the 'rhyolitic bluestones' (a type of silica-rich igneous rock). Their research identified the source of the stone to an outcrop in Craig Rhos y Felin, near Crymych in north Pembrokeshire.
New research by the same team, reinterpreting older analysis and adding new data, has allowed them to confidently identify Carn Goedog as the location for the main type of bluestone used for the Stonehenge monoliths, the so called 'spotted dolerite'.
The spotted dolerite is a relatively silica-poor igneous rock containing distinctive light coloured alteration spots.
Experts have argued that the large sarsen stones at Stonehenge are local to the Salisbury Plain area. However, the origin of the smaller bluestones which make up the inner circle at Stonehenge, has been the topic of research for many years, although there has been little refinement of the research conducted by geologist Herbert Henry Thomas in 1923 about their original sources.
Thomas claimed to have sourced the spotted dolerite component of the bluestones to hilltop rock outcrops, exposed in the high Preseli, to the west of Crymych in west Wales.
As a result of Thomas's views, recent archaeological excavations have concentrated on finding Stonehenge-related quarries at Carn Meini.
Using geochemical techniques, Dr Bevins, Dr Ixer and Professor Pearce have compared samples of rock and debris from Stonehenge with Thomas's findings and also geochemical data published in the early 1990's by Richard Thorpe and his team from the Open University.
The current findings conclude that the majority of the spotted dolerites analysed actually come from Carn Goedog which is about 1.5km away from Thomas's originally proposed site of Carn Meini and is close to Craig Rhos y Felin, the source of the rhyolitic bluestones identified earlier.
AU42713