University welcomes Hywel Dda status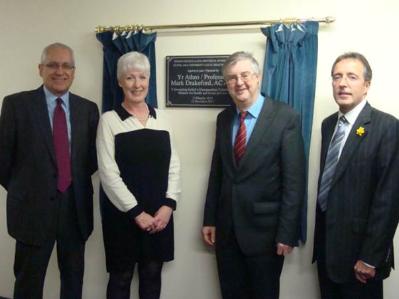 Prof. Trevor Purt, Chief Executive of Hywel Dda University Health Board; Prof. Kate Bullen, Director of Institute of Human Sciences, Aberystwyth University; Prof. Mark Drakeford, Minister for Health and Social Care and Mr Chris Martin, Chairman of Hywel Dda University Health Board
The Minister for Health and Social Services Professor Mark Drakeford has today announced that Hywel Dda has achieved the status of University Local Health Board.
During a visit to the region, the Minister confirmed the health board has strongly demonstrated its close work with Aberystwyth University as well as Bangor, Cardiff, Swansea and the University of Wales Trinity Saint David across a wide range of subjects including education, research and development.
The relationships are mutually fruitful and often innovative and provide significant benefits to healthcare, education and research.
The Health Minister, Mark Drakeford said: "The change in name reflects a real commitment to excellence in terms of partnership with higher education, the quality of services provided and overall performance."
Professor Kate Bullen, Director of the Institute of Human Sciences at Aberystwyth University said, "I am extremely pleased that Aberystwyth University has been able to been able to contribute to the successful attainment of University Health Board status by Hywel Dda Health Board. Aberystwyth has developed a range of significant and important innovative projects with Hywel Dda since we signed our Memorandum of Understanding two years ago. I am confident that these initiatives in the areas of research, service and work force development, and public engagement will continue to benefit both organisations in the future."
Hywel Dda University Health Board Chief Executive Professor Trevor Purt said: "Hywel Dda has made significant progress over the last 12 months with the establishment of an Innovation Board to direct research activities and the appointment of a Chair of Rural Health. This has senior University membership and will help find solutions to the challenges in relation to rural health that will potentially have worldwide influence.
"These developments show how we intend to take forward our links in the future and show our commitment to nurturing and maintaining the already strong links we have with local Universities."
AU45213