IBERS Interim Director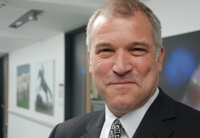 Professor Chris Thomas
Professor Chris Thomas, Pro-Vice Chancellor for Research at Aberystwyth University, has been appointed Interim Director of IBERS following the appointment of Professor Wayne Powell as Chief Science Officer of the Consultative Group on International Agricultural Research (CGIAR), based in Montpellier in France.
A Professor of Zoology in IBERS, Chris Thomas joined Aberystwyth University in 2007 and was appointed Pro-Vice Chancellor with responsibility for Research and Academic Quality in June of this year.
He starts his new role in January and takes up this temporary role in IBERS alongside his Pro-Vice Chancellor role at the University.
The University is working with the Biotechnology and Biological Sciences Research Council (BBSRC) to recruit a new Director for IBERS.
AU45113