Ceredigion Armed Forces Community Covenant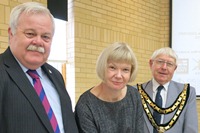 Cllr Paul Hinge, Professor April McMahon, Vice Chancellor of Aberystwyth University signing the Ceredigion Armed Forces Community Covenant and Councillor John Adams-Lewis, Chairman of Ceredigion County Council
Aberystwyth University signed the Ceredigion Armed Forces Community Covenant at Neuadd Cyngor Ceredigion, Penmorfa, Aberaeron this month in the presence of representatives of Ceredigion County Council and the Armed Forces in Wales.
The aim of the Covenant is to promote understanding and awareness in the civilian community of issues affecting the Armed Forces. Community Covenants are intended to complement the UK-wide Armed Forces Covenant which highlights the sacrifices that soldiers, sailors and airmen make on everyone's behalf.
The initial signing of the Covenant was held in January 2013, where members of the Armed Forces in Wales, the Hywel Dda Health Board, the Ceredigion Association of Voluntary Services, Armed Forces Charities and the local business community were represented.
Aberystwyth University expressed an interest to become one of the partners in the Community Covenant and following discussions with Cllr Paul Hinge, Armed Forces Champion, and Mr Alun Williams, Head of Policy Support. They were able to get full support from the University's Executive to become a partner in Ceredigion's Community Covenant.
AU45313