Arts centre supports RSPB campaign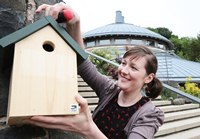 Rachel Scurlock from the Arts Centre (credit Arvid Parry Jones)
Aberystwyth University's Arts Centre has been chosen as one of five landmark sites in Wales to promote RSPB Cymru's Giving Nature a Home campaign, aimed to inspire more people in Wales to create new homes and attract more wildlife into their gardens.
The other four landmark sites in Wales are Portmeirion, Powis Castle, the National Botanic Gardens and St David's Cathedral.
The campaign, launched in June, aims to help tackle the housing crisis facing Wales's threatened wildlife which will see bird boxes, bug hotels and hedgehog houses placed at these iconic venues as well as households across Wales.
Louise Amery, Deputy Director of Aberystwyth Arts Centre, said: "This is a great way of getting the whole family interested in nature and appreciating what they have on their doorstep. Not so long ago the Red Kite was a rare sight in this part of Wales but after a real effort to save them, it's now a familiar sight around here.
"We can allmake a difference and start to help tackle the lack of habitats for some of Wales' other wild creatures. If everyone can do just one thing and give nature a home in their outside space, it would be a big step forward."
The launch of the campaign came after 25 wildlife organisations, including RSPB Cymru, released the State of Nature report revealing that 60 per cent of the wildlife species studied has declined over recent decades.

Many garden favourites were among the creatures shown to be in serious trouble including starlings, hedgehogs, some butterflies and ladybirds. All are in danger of further declines unless more is done to provide better habitats.
Getting everyone in Wales to act for nature in their own gardens is the first part of a package of actions that RSPB Cymru is launching in response to the State of Nature.
Over the course of the next few months, the charity will be outlining what businesses, communities and politicians can do, as well as detailing RSPB Cymru's own plans for saving nature. For more information, visit www.rspb.org.uk/homes
AU46213