New Head for Law and Criminology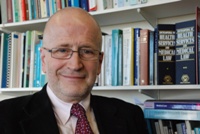 Professor John Williams
Professor John Williams has been appointed the new Head of the Department of Law and Criminology at Aberystwyth University.
Professor Williams, who succeeds Professor Noel Cox in the role, is an authority on older people and the law, with special emphasis on the human rights of older people.
Speaking of his appointment, Professor Williams said; "I am delighted to be appointed Head of Department at this challenging time in its long history. It is a time of change in higher education and there are many opportunities for Law and Criminology. The Department is well placed to take advantage of these opportunities building on its teaching, research and contribution to the local, national and international communities.
Establishing a law school in 1901 in rural Wales was not without its critics given the lack of what was called a 'legal hinterland'. My predecessors proved those doubters wrong by their willingness to embrace change, being ambitious for the future and their international outlook. It is essential that today the Department reasserts its ambitious vision for the future and I look forward to leading it at this exciting time."
The Vice-Chancellor, Professor April McMahon, said; "'I welcome Professor Williams' return to the Head of Department role and look forward to working with him. The disciplines of Law and Criminology have a real capacity to contribute to the new Institute of Law, Management and Information Science, and to the Strategic Plan of the broader University. These are challenging times and Professor Williams will bring energy and authority to this important leadership role".
Professor Williams is member of the United Nations panel of experts advising the UN Open Ended Working Group on Older People.
He is a legislative advisor to the Health and Social Care Committee of the Welsh Assembly on Stage 1 report on the Social Services and Well-being Bill 2013, and one of the four members of the Welsh Government's Safeguarding Advisory Panel that is developing the regulatory framework for
safeguarding children and adults at risk.
Working with colleagues, Alan Clarke and Sarah Wydall, Professor Williams' current research focuses on access to justice for older victims of abuse and neglect.
Professor Williams delivers an annual seminar presentation as part of Harvard Medical School's Law and Psychiatry seminar programme and recently contributed to the International Academy of Law and Mental Health conference which was held in Amsterdam.
This will be Professor Williams' second period as Head of Department, having previously held the post between 1999 and 2009. The appointment is for a period of 5 years.
AU45813