Two Aberystwyth students sign major book deal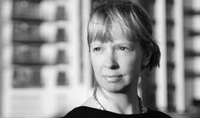 Kate Hamer
Two postgraduate students in the Department of English and Creative Writing have been signed by major UK publishers.
Current PhD Creative Writing student Eliza Granville's novel, Gretel and the Dark, will be published by Hamish Hamilton, an imprint of Penguin, on 6th February 2014 and is a literary novel which takes its inspirations from Grimm's fairytales.
Kate Hamer, who has just completed an MA in Creative Writing at Aberystwyth, has been signed to Faber in a two book deal. Kate's first novel, The Girl in the Red Coat, will be published in spring 2015.
Kate's book began life as a piece of coursework for her MA Creative Writing, which provides intensive, practical training in the craft of writing, and the publishing industry.
The novel tells the story of Carmel, a young girl, and her mother. When Carmel goes missing one day at a festival, both mother and daughter embark on their own individual terrifying journeys, in a mystery with undertones of a fairy tale.
Kate, who grew up in Pembrokeshire and now lives in Cardiff, explains, "When I received the news that Faber wanted to publish The Girl in the Red Coat I was beyond thrilled. For a first time novelist, there's nothing better than hearing such a legendary publisher wants your book."
Faber's Sarah Savitt has called Kate 'a distinctive new voice in British fiction'. The German rights to the novel have also been sold in a six-figure deal. She has previously won the Rhys Davies short story award, as well as being awarded a Literature Wales bursary.
Kate's success comes hot on the heels of another publishing deal for one of the department's postgraduates.
Gretel and the Dark is Eliza's dazzling novel of darkness, evil and hope. Set in Vienna in 1899, Josef Breuer is a celebrated psychoanalyst and is about to encounter his strangest case yet. Found by the lunatic asylum, thin, head shaved, she claims to have no name, no feelings and not even human. Intrigued, Breuer determines to fathom the roots of her disturbance.
Eliza explained, "I will always be grateful for the support I've received – and still receive – from the English and Creative Writing department. I feel applying for a place at Aberystwyth was one of the best decisions I've ever made. There is an expectation of publication that does not seem to exist in other institutions."
Kelly, assistant editor at Hamish Hamilton, said: "I couldn't be more delighted that we are going to publish this highly original and thought-provoking book. Eliza Granville is a natural storyteller."
Dr Katherine Stansfield, a lecturer in Creative Writing, congratulated both students on their success and added "Everyone in the department is absolutely thrilled for Kate and Eliza. Being signed by such important publishers as Faber and Penguin is a fantastic achievement, and testament to the quality of writers working in the department and the support they receive from staff."
AU3214