Strategic language development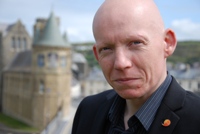 Dr Rhodri Llwyd Morgan
Aberystwyth University's commitment to draw up an integrated strategic plan for promoting use of the Welsh language offers the chance to pioneer says Pro Vice-Chancellor of the University, Dr Rhodri Llwyd Morgan.
The decision to produce an integrated plan to promote the Welsh language follows the publication of a report into the linguistic impact of moving the University's dedicated student accommodation for Welsh speakers from Pantycelyn to Fferm Penglais.
The independent report by Iaith: the Welsh Centre for Language Planning concluded that the move would not have a negative impact on the use of Welsh by students, and the University should proceed with current plans to create a designated Welsh area as part of the development of student accommodation on Fferm Penglais.
The report also included a recommendation to establish a new Welsh Centre at the heart of the main campus to promote Welsh activities among students and staff of the University and the wider community.
The decision has been approved by the University's Welsh Strategy Committee and work to draw up the integrated plan is now underway.
Dr Rhodri Llwyd Morgan said; "The University has operated a Welsh Language Scheme since 2003 and our provision of Welsh-medium courses is also expanding, but the commitment to produce a holistic and integrated strategic plan for the Welsh language offers an unique opportunity to plan for provisions that facilitate and promote the Welsh language - facets that go beyond the Scheme and academic provision."
"It is also an opportunity to develop a plan that is unique to Aberystwyth University."
Since August 2013 the University has taken significant administrative steps to develop aspects of bilingualism.
A language skills strategy has been introduced which means that the language requirements of all jobs are now being determined in a systematic manner to ensure that the workforce is equipped with the necessary language skills to provide bilingual services.
Directors of Welsh Language and Culture have been appointed in each of the seven new academic Institutes which came into existence on the first of August 2013.
This innovative development provides specific champions for the Welsh language within each of the Institutes and supports relevant expertise within them, something that has not existed before.
Dr Morgan added: "The commitment to creating an Integrated Plan for the Welsh language offers an opportunity to better co-ordinate the administrative, academic and curricular elements with added attention on the social and cultural aspects. It would also be a bridge between students, staff and the wider community."
A copy of the report by the Welsh Centre for Language Planning, "Linguistic Impact Assessment: the location of designated Welsh-language accommodation as a part of the Penglais Farm development" is available online at http://bit.ly/NJz2ev.
AU7214