Pwllpeiran Business Manager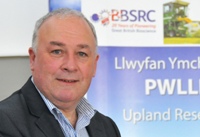 John Davies
John Davies has started work as Business Manager of the Pwllpeiran Upland Research Platform at IBERS, Aberystwyth University.
John's role is to establish and manage the new facility in the uplands above Aberystwyth in Ceredigion.
The Research Platform is supported by £3.2 million investment from the BBSRC (Biotechnology and Biological Sciences Research Council).
John is local to the area. He was educated at Ysgol Gyfun Penweddig, Gelli Aur Agricultural College and the Welsh Agricultural College in Aberystwyth. He lives with his wife and family in Rhydyfelin.
John is well connected in the agricultural sector with previous roles at the Ministry of Agriculture, Fisheries and Food (MAFF) Trawscoed, then as a livestock procurement officer for a livestock co-operative, followed by a period as an agricultural estate agent and Auctioneer.
He worked for NFU Cymru as a Policy Adviser for nine years and for the past twelve years he was the Director of Food Centre Wales, providing state of the art technical support for the Welsh Agri-Food industry.
John is a Former Wales YFC president, Chairman of the Wales Rural Network and the Mid Wales Agri-food group; and a member of the Welsh Rural Development Programme monitoring committee. He is a Special advisor to the Cambrian Mountain initiative.
Although there is an upland research facility serving Scotland, Pwllpeiran will be the only dedicated upland research facility in England and Wales and will provide an opportunity to develop a unique catalyst to mobilise the resources of IBERS and other UK research providers to find solutions to challenges including:
• Environmentally friendly farming systems whilst providing farmers with sustainable incomes.
• Methods of benchmarking sustainable production and valuing biodiversity in the uplands.
• Sustainable local food supply chains that allow traceable products of known provenance to be supplied to consumers.
• Value added products that utilise current advances in science to allow farmers to provide high specification products into the supply chain.
• Animal production systems that minimise their environmental footprint by incorporating modern innovations in feeding, management and genetics.
• Management tools that allow upland agriculture to be visualised and managed in a way that ensures benefits are maximised and costs, both financial and environmental, are minimised.
• An evidence base to support well-informed, validated policy development
Pwllpeiran has been a research centre since the 1930s, working to improve the viability of farming the uplands of Wales.
With increasing emphasis on food quality and provenance, and pressure to manage land in a way that is sensitive to the environment, the science of agriculture has a key role to play.
John Davies said; "I am looking forward to the challenge of taking Pwllpeiran forward and working with my academic colleagues and contacts across the sector to play a part in addressing the challenges of food security, greenhouse gas reduction and protection of biodiversity by informed and improved use of the uplands."
The uplands in Wales encompass 80,000 hectares, and this natural resource provides essential services including water, food, fuel, carbon sequestration, wild-life habitats, biodiversity havens, flood alleviation and recreational space.
The Institute of Biological, Environmental and Rural Sciences
The Institute of Biological, Environmental and Rural Sciences (IBERS) is an internationally recognised research and teaching centre providing a unique base for research in response to global challenges such as food security, bioenergy and sustainability, and the impacts of climate change. IBERS scientists conduct basic, strategic and applied research from genes and molecules to organisms and the environment. 
IBERS receives strategic research funding from the BBSRC to support long term mission driven research, and is a member of the National Institutes of Bioscience. IBERS also benefits from financial support from the Welsh Government, DEFRA and the European Union.
IBERS works with both academic and industrial partners, developing and translating innovative bioscience research into solutions designed to mitigate the impacts of climate change and plant and animal diseases, and deliver renewable energy and food and water security.



AU17614