Aberystwyth Cycling Festival 2014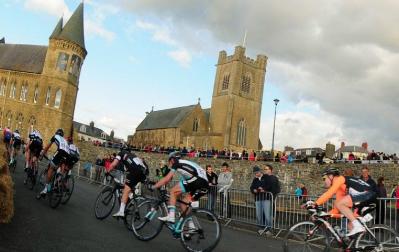 Aberystwyth Cycling Festival
This weekend will see an action packed programme of cycling in Aberystwyth and the return of Aberystwyth Cycle Festival for a fifth consecutive year from 23-25 May.
The event, which is hosted in partnership with the University, will welcome some of Britain's top cyclists which will include on and off road action.
This Friday (23 May), the roads of Aberystwyth will be closed for the televised Tour Series pro criterium.
The award winning one-kilometre closed circuit circumnavigates the iconic 19th century Old College, the 13th century Castle, the Victorian Pier and also brushes the town centre for what is set to be a great day's entertainment for all.
The downhill mountain bike racing event will take place on Saturday 24 May on Constitution Hill and on Sunday 25 May, the Welsh Wild West Sportive event has three routes of different distances for riders to choose from. These include a 26, 70 or 114 mile option.
More information on the festival can be found here: http://www.abercyclefest.com/
AU14714