San Francisco beckons for Aber Sailbot team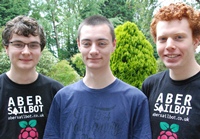 Daniel Clark (left), Ashley Iles and Louis Taylor from the Aber Sailbot team
A team comprising of three Aberystwyth University undergraduate students from the Department of Computer Science will be competing later this week (Saturday 7 June 2014) in Sailbot2014, an annual robotic sailing competition which is being held this year in San Francisco.
Since 2012, the Aber Sailbot team has been creating and competing in autonomous robotic sailing competitions which saw them clinch third place in Sailbot2013 and win the award for the Best Open Source Architecture at the World Robotic Sailing Championships in France last year.
The boats themselves are robots and are controlled by inbuilt state-of-the-art GPS system which allows them to navigate themselves around any course, similarly to a Sat-Nav system.
Each team must build and program an autonomous sailing boat to compete in a range of events against other teams with no human interaction to control the boat.
Daniel Clark, a second year Computer Science student and an Aber Sailbot team member, explains; "We wanted to set ourselves a bigger challenge of building a much larger and faster boat for entry into Sailbot2014 in San Francisco."
"Our intelligence and logic systems are powered by a tiny Raspberry Pi computer which interfaces with the majority of the rest of the boat via an Arduino Uno board."
The team also consists of Louis Taylor and Ashley Iles, also second year students at Aberystwyth.
Their new boat, Kitty, has been specifically designed and built to enter this competition in the US and will be up against strong teams such as the US Naval Academy, the University of British Columbia and Virginia Tech.
"We are the only team competing from outside of North America," explains 19-year-old Louis Taylor, an Artificial Intelligence and Robotics student at Aberystwyth.
"It's going to be tough but we are very happy with what we've produced and we're looking forward to the challenge. We're also very grateful to the Department of Computer Science here in Aberystwyth and our sponsors: QinetiQ, ARM, The Raspberry Pi Foundation, Embedded Bits, Kano Computing and Kneath Associates."
"We are however always on the lookout for more sponsors and funding, so if you're interested in getting involved with us, please get in touch."
AU18914