National Eisteddfod 2014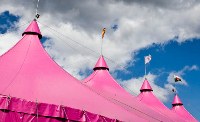 There will be a variety of talks, lectures and interactive activities to suit all ages and interests at Aberystwyth University's stand at the National Eisteddfod next week.
Wales' leading Welsh language festival takes place during the first week of August will be held in Llanelli from August 2nd – 9th and highlights include:
Monday August 4, 11am: Persecution in Aber: A black chapter in the history of Aberystwyth
This is a lecture on the life of Professor Hermann Ethé by Tegwyn Jones, a former student of the University. Carl Hermann Ethé was a German Professor of Oriental Languages ​​at the University College of Wales Aberystwyth at the beginning of the First World War. Due to the pressure put on him by the people of Aberystwyth and Aberystwyth Town Council, Ethé had to return to Germany.
Monday August 4, 2:30-4pm: The Welsh Tribunals: What? How? And Why?
A lively Seminar accompanied by Tribunal Judge Meleri Tudur and Dr Catrin Fflur Huws, a lecturer in the Department of Law and Criminology at Aberystwyth University.
Monday August 4th, 4pm: Wales and the world: post-devolution Wales International Policies
A discussion with Dr Elin Royles and Dyfan Powel of the Department of International Politics.
Tuesday August 5, 2pm: Photo and story with Eurig Salisbury
Eurig Salisbury, Wales Children's Poet Laureate 2011-13, will read the great book 'Pobol y Pants o'r Gofod' (Pants People of Space). There will be an opportunity to take pictures too.
Tuesday August 5, 3pm: The University Challenge
Quiz banter between staff and students of the University under the care of the quiz master and historian, Dr Russell Davies.
Wednesday August 6, 10.30am: A chance to experiment
Discover how to turn plants into plastic with Dr Sharon Huws, Welsh National College Lecturer in Animal Science and Research Scientist, Luned Roberts, of the Institute of Biological, Environmental and Rural Sciences.
Wednesday August 6, 2 - 4pm: AU Reunion (hosted jointly by the Old Students' Association and the University)
This is a great opportunity for everyone who has studied at Aberystwyth University at any time, to come and meet each other at the Eisteddfod or reminisce with old friends. Refreshments will be served and everyone is welcome.
Thursday August 7, 10-11.30am: Big Ideas
This is an event to celebrate Big Ideas Wales and to provide a snapshot of what's planned during the next academic year. Big Ideas Wales' main aim is to encourage young people, to raise their aspirations, to realise their potential and to create exciting opportunities for themselves and others.
Thursday August 7, 12pm: Talwrn y Beirdd (circle of the bards)
Come and see the poetic showdown between Aberystwyth University and Bangor University's Welsh Department. Who will win this year?
Thursday August 7, 3pm: Creative Writing Discussion
This aims to be a lively discussion in the company's Creative Writing Professor Mihangel Morgan and Miriam Elin Jones of the Welsh Department at Aberystwyth University.
Friday August 8, 10.30am: Mapping Academic Translations into Welsh and Commissioning
This event, in the company of Professor Elin Haf Jones, Dr Ned Thomas and Dewi Huw Owen, will provide an introduction into a project of formulating an online catalogue of translations into Welsh and discussion on translation.
Friday August 8, 12pm: Annual Lecture EG Bowen: Flooding, drought and adaptation in the hydrographic society of Welsh Patagonia
This lecture looks at how the Welsh colonists of Patagonia have adapted to flooding and drought from 1865 to the present day. The lecture by Dr Hywel Griffiths from Aberystwyth will look at the interfaces between the Welsh colonists, their culture and environment as they were forced to adapt to unexpected climatic extremes.
Friday August 8, 2pm: Remembering Aber: Alumni memories
A talk will be given by an alumnus of the Institute of Geography, History and Politics. The talk will be chaired by Dr Arddun Arwyn.
Friday August 8, 3pm: Midsummer Reunion UMCA
If you are a current student or prospective student at Aberystwyth University, come along to the stand for the Midsummer Reunion. Entertainment will be by 'Yr Eira', with light refreshments.
For further information on all our events visit: https://www.aber.ac.uk/en/eisteddfod/
AU31014