Fferm Penglais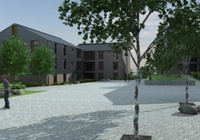 Fferm Penglais
Aberystwyth University is very disappointed that during late July Balfour Beatty confirmed that the delivery of Fferm Penglais, the University's new £45m student residences development, is delayed.
In a statement to the University, Balfour Beatty has stated that the company is "sorry for the inconvenience this has caused".
Balfour Beatty shared revised delivery plans with Aberystwyth University in late July to show their delayed programme. In the statement Balfour Beatty state: "Due to circumstances, some of which were beyond our control, the delivery of the Fferm Penglais project has been delayed. We are committed to delivering 14 blocks, along with the central Hub building by the beginning of November 2014 with the remainder of the accommodation being delivered in good time for the start of the 2015/16 academic year."
In the statement, Balfour Beatty state that they "remain committed to working in partnership with Aberystwyth University to deliver quality student accommodation facilities over the coming months."
Rebecca Davies, Pro Vice-Chancellor at Aberystwyth said: "Today, the University's Accommodation Office is contacting all of the students affected by this delay to reassure them that alternative accommodation will be provided and to advise them on the options that are available to them."
"All 1st year students will be offered accommodation, including everyone who chooses to join us during clearing."
"Many students booked their accommodation on Fferm Penglais early. All of these students will be offered alternative accommodation and some will be offered the option of moving to Fferm Penglais rooms when they become available, along with the Hub, in the autumn."
"The Project Agreement, to which the University and Balfour Beatty are signatories, means that no students will be left without accommodation. It also means that no student, or the University, will lose out financially as a result of this delay."
Details of who to contact if you or someone you know has been affected by the delay are available on the Accommodation Office website.
AU31414