Aberystwyth's Summer University success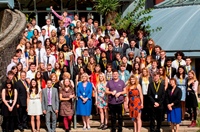 Whilst most young people would generally take the summer holiday off from their studies, 79 young students decided to opt for six weeks of lectures, research and presentations at this year's Aberystwyth Summer University.
The Aberystwyth Summer University is a flagship widening access programme aimed at those who are at least 17 and can demonstrate the commitment and motivation to successfully complete the programme. They live or go to school / college in a Welsh Communities First area, or are from a care / care leaver background, or are the first from their family or community to go to university.
According to Dr Debra Croft, Manager of the Aberystwyth Summer University, its strength lies in allowing a large group of students to come together for an extended period to study subjects of their own choosing, taught by academics in the Departments, mirroring university life as realistically as possible.
"Much of the Summer University's benefits derive from the fact that the students have a full 6 weeks in which to immerse themselves in the experience of university, adjusting to being away from home, to the pressures of academic work and deadlines.
"They quickly learn organisational and time management skills, which enable them to enjoy a full programme of sports and social activities on the Campus and in the local area.
"It not only benefits the young people who study with us", she added, "it also gives real experience to our team of Student Leaders as they assist with pastoral care and co-ordinate sports and social activities on the course.
"The Leaders are current students who have been trained to provide a high level of motivation and care to the summer students – some of whom have not stayed away from home before. This opportunity enables them to really hone their skills and increase their employment opportunities."
One of this year's Student Leaders was third year Psychology student, Chris Blackwell, from Ogmore Vale. Chris was responsible for a group of 15 FE college students on this year's course, having attended the course himself in 2010 and worked in 2013.
Explaining why he applied to work as a team leader, he said; "The Summer University literally changed my life completely and I wanted to do that for someone else. Without that summer I would not have come to university. I was too shy and I didn't really enjoy my time in school.
"This course shows you that there are other people out there are like you. It made me want to come here to university where I feel that I fit."
Chris is now going onto a PGCE for primary school teaching, specialising in learning difficulties and is planning to train as an Educational Psychologist in the longer term after a Master's degree.
This year's ceremony also acknowledged the work of six Nuffield Foundation Research Placement students who have spent their summer working with researchers at Aberystwyth University.
Dr Debra Croft added, "Students in the first year of a post-16 science, technology, engineering and maths (STEM) course are eligible to apply for the Nuffield placement and students who don't have a family history of going to university or who attend schools in less well-off areas are particularly encouraged at Aberystwyth."
AU32513