Wales and India translation workshop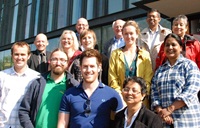 Welsh and Bengali translation workshop team
Four prominent academics from Jadavpur University (Kolkata, India) are visiting Aberystwyth between 8-10 September on a translation workshop between Welsh and Bengali literature, poetry and theatre, as part the first event in the calendar of the newly created Centre for Cultural Translation, Institute of Literature Languages and Creative Arts.
Professor Suchorita Chattopadhyay, Professor Ipshita Chanda, Dr Seemantini Gupta and Dr Sayantan Dasgupta's visit has been supported by Wales Arts International.
The Welsh participants in the workshop include novelist and translator Siân Melangell Dafydd (University of Paris) and editor of Taliesin, renowned poets Eurig Salisbury (Centre for Advance Welsh and Celtic Studies) and Dr Hywel Griffiths (Department of Geography and Earth Sciences) whose work have already been published in Indian languages as well as theatre specialist Dr Roger Owen (Department of Theatre, Film and TV Studies) and Ned Thomas (TFTS), whose award winning Bydoedd (2010) will be published in Bengali later this year. 
This workshop builds upon previous exchanges in the field of cultural translation between Wales and India and is the second to be held in Aberystwyth.
The workshop will be facilitated by Professor Elin Haf Gruffydd Jones, Director of the Centre for Cultural Translation at Aberystwyth University.
The works selected for the workshop include the cultural essays of the Bengali poet, playwright and writer Rabindranath Tagore (1860-1941) awarded the Nobel Prize for Literature in 1913 and a selection of short stories by emerging writer Tamal Bandyopadhyay.
Welsh language texts include Tynged yr Iaith (The Fate of the Language) and Blodeuwedd Saunders Lewis as well as contemporary short stories and poetry. 
The group will also visit the National Library of Wales where there is a substantial collection of Tagore's writings and will meet the Library's Chief Executive, Professor Aled Jones.
The second workshop will be held in January 2015 in India and hosted by Jadavpur University.
Professor Suchorita Chattopadhyay teaches at the Department of Comparative Literature, Jadavpur University, and is member of the Academic Committee of the Centre for Translation of Indian Literatures (CENTIL) there. She heads the Centre for Canadian Studies and is member of the Executive Council of the Shastri Indo-Canadian Institute. Her areas of specialisation include Canadian Studies, Translation Studies, European Literatures and Southeast Asian Literatures. She has edited Tapestries, an anthology of short stories from various Indian languages into English and has translated extensively.
Professor Ipshita Chanda teaches Comparative Literature at Jadavpur University. She held the Indian Council of Cultural Relations Chair for Indian Studies at Georgetown Unversity in 2013-14. She is member of the Academic Committee of CENTIL and heads the Centre for Studies in African Literatures and Cultures at Jadavpur University. Her areas of specialisation include African Studies, Indian Literatures and Comparative Literature. Her most recent translation project was Shaping the Discourse: Women's Writing in Bengali Periodicals 1864-1947, Stree, Kolata 2013. Her translations of Sukumar Ray, Mahasweta Devi and Satinath Bhaduri have been published as books by Sahitya Akademi, Seagull Books and the Central Institute of Indian Languages.
Dr Seemantini Gupta has a PhD in Comparative Literature and currently works with Anandabazar Patrika. She has translated extensively from various languages into Bangla and has co-edited Raatbhor Jhorer Tandob, an anthology of Nepali-language short stories in Bangla translation. She is currently co-editing The Dalit Lekhika: Poems and Short Stories by Bengali Dalit Women for Stree Books. She is also editor of a volume of poetry by Ali Cobby Eckermann, Australian Nunga poet, in Bangla translation, slated for publication in July, 2014.
Dr Sayantan Dasgupta is Coordinator of the Centre for Translation of Indian Literatures, Jadavpur University, and teaches Comparative Literature there. His English translation of Girishchandra Ghose's Bangla adaptation of Molière's L'amour médecin was published by Sahitya Akademi. He has also edited Call of the Hills, an anthology of Nepali literature in English translation, and A Season of Stories, an anthology of Indian short stories from various languages in translation. He is co-editor of Sabda Khoje Edesh Odesh, an anthology of stories from India, Pakistan and Sri Lanka in Bangla translation, and of Lepcha Loksahitya, an anthology of folktales and folk songs from Lepcha language. He is currently co-editing Dalit Writings from Eastern India for Oxford University Press, India.
AU34714