Open Day is a family attraction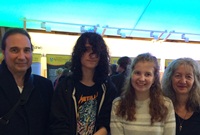 The Baker family
It was a journey of discovery and re-discovery for the Baker family from Zurich who visited Aberystwyth University's Open Day on Saturday (18 October).
Brother and sister, Fergus and Veronica, were visiting the Physics Department and the Institute of Biological, Environmental and Rural Sciences, with a view to studying Physics and Biology at Aberystwyth.
For parents Shaun and Alice (nee Robinson), it was a trip down memory lane as both are alumni of the University. Shaun, originally from Taunton, studied English Literature and Art History, whilst Alice read Librarianship at the College of Librarianship Wales, followed by a Masters degree in Visual Arts.
Alice explained: "It's been great coming back to Aberystwyth as a weekend away, and being able to show Fergus and Veronica around the town and the University. My husband and I met at Aberystwyth Arts Centre, so coming back here for the Open Day today is particularly special.
"Aberystwyth has a lovely community feel and it's great to be back here, catching up with friends and seeing how the place has changed."
Further details of how to visit the University, including Visiting Days for University applicants can be found here: http://www.aber.ac.uk/en/study-with-us/open-days
The next open day will be the Postgraduate Open Day on Wednesday 12 November.
AU45814