New Project Management and Change Unit launched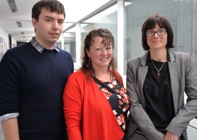 The Project Management and Change Unit team: (left to right) Sam Hounsell, Project Support Officer; Julie McKeown, Head; and Debbie Prysor, Senior Projects Officer.
A new Project Management and Change Unit has been established by Aberystwyth University offering support for the planning and delivery of a wide range of projects within the University.
Based in the University's Planning, Governance & Management Information Office, the new unit is headed by Julie McKeown, previously in the School of Management and Business.
A Chartered Marketer, Julie has an extensive background in project management, business consultancy and strategic marketing with blue chip companies and small businesses alike.
Debbie Prysor has been appointed Senior Projects Officer and joins the team having worked since 2012 as Executive Personal Assistant to Pro Vice-Chancellor, Professor John Grattan and the Director of Planning, Lucy Hodson.
Sam Hounsell, who graduated in International Politics earlier this year, joins the team as Project Support Officer.
Julie McKeown said: "This unit has been established to support colleagues across the University with their projects which can range from those that are completed within a few weeks, to larger activities such as capital developments, large-scale entrepreneurial activities, information systems and internal reviews of processes and procedures.
"We also provide advice on aspects of project management and are working towards developing project management capabilities across the University, by offering Project Surgeries, the Project Toolkit (http://www.aber.ac.uk/en/pgbi/pmcu/pmcu.toolkit/) and training sessions."
Further information about the Project Management and Change Unit (PMCU) is available on its newly launched website http://www.aber.ac.uk/en/pgbi/pmcu/
Should you wish to discuss a potential project, please contact the Project Management and Change Unit on 01970 628678 or by e-mail.
AU44714