Jack the Ripper: The Missing Evidence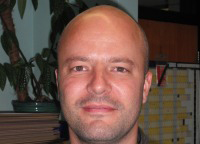 Dr. Gareth Norris
Senior lecturer in Law and Criminology, Dr. Gareth Norris appeared on Channel Five's 'Jack the Ripper: The Missing Evidence' on Monday 17 November where he profiled a new suspect in the infamous 'Jack the Ripper' Whitechapel murders.
The programme looks at the three decades of research conducted by journalist Christer Holmgren, whose focus eventually fell onto a witness known as Charles Cross, whose real name was Charles Allen Lechmere.
Lechmere found the body of the Ripper's second victim, Polly Nicholls and his daily routine could be consistent with all of the other deaths.
The programme reports that Lechmere not only lied to a policeman on the night, but also lied to an inquest and gave them his false name of 'Cross'.
It was only when Lechmere's real name came to light through the research of Holmgren and others, that incriminating evidence came to light.
In the programme Lechmere is psychologically profiled by Gareth, with his geographical behaviour being analysed and actions at the crime scene to see if he fits into the pre-existing knowledge of Jack the Ripper.
Dr Norris also examines where Cross lived, and whether it fits into the pattern of the murders.
Dr Norris said; "From a psychological perspective, the Cross/Lechmere suspect is very interesting as not only did he discover one of the bodies, he also knew the streets very well and would have had reason to be in the areas around the times of the killings through his job with the delivery company Pickfords.
He also moved out of the home he had shared with his mother a couple of weeks before the crime series started which may psychologically indicate something had changed in his life."
The documentary is the third episode in a six part series entitled 'Conspiracy: The Missing Evidence' looking at the evidence that supports notorious conspiracy theories.
Other episodes have looked at the circumstances surrounding 9/11 and Marilyn Monroe's death.
Jack the Ripper: The Missing Evidence is now available on Channel 5's catch-up service.