Artist celebrates 80th birthday with two University exhibitions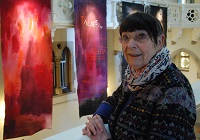 Mary Lloyd Jones, one of Wales's most distinguished and highly acclaimed visual artists exhibits her work at the Arts Centre and the Old College.
Mary Lloyd Jones, one of Wales's most distinguished and highly acclaimed visual artists, is set to hold two art exhibitions at Aberystwyth University's Arts Centre and the Old College as part of her 80th birthday celebrations.
For six weeks from 3 December until Friday 16 January, Mary will exhibit a selection of around 30 pieces at Aberystwyth Arts Centre.
The exhibition includes new work in addition to a selection of early works that aims to show her artistic journey over the last 50 years.
The second exhibition is being held at her new home, the Old College, where she currently works. The Quad will be transformed by Mary's huge canvas banners which will be draped over the balcony and the walls will come to life with her big colourful canvases.
The exhibition will be officially opened by Aberystwyth University's Vice-Chancellor April McMahon on Monday 15 December at 6.30pm. The exhibition will be open to the public on Tuesday 16 December.
Mary explains; "The history of the Old College is fascinating and I think it's one of Wales' greatest treasures. To have my studio here is wonderful and to have the artwork on display is a great honour.
"The work on display will show a variety of different periods. For example, the banners exhibited in the Quad were designed to celebrate the Welsh bardic tradition from prehistory to the present time and were created in 2000 to be part of my exhibition in the newly extended Arts Centre in 2001.
"I also have a drawing I made when I was seven years old on display along with portraits of my father and daughters and several books at the Arts Centre."
Mary's new autobiography called No Mod Cons will also be available to buy at the Arts Centre. It goes into detail about her upbringing in Ceredigion along with her love of art and how she first started.
Born in Devil's Bridge, Mary has a deep association with Ceredigion and absorbed from a young age the shapes and tones of its landscape and the rhythms of its social and cultural life.
She is known for her application of rich and vibrant colour and has drawn and painted the world around her since childhood.
Mary studied at the old Ardwyn Grammar School in Aberystwyth and later at Cardiff College of Art, where she met her husband who is also an artist, John Jones. She moved to Essex to live for a spell before returning to Ceredigion permanently in 1961.
She is a well-established artist and was made an Aberystwyth University Fellow in 2009.
She has been exhibiting her work since 1966 and today, her paintings can be found in numerous private and public collections including the National Museum of Wales, the Contemporary Arts Society, the National Library of Wales, the Smithsonian Institute Washington DC and Ceredigion County Council.
Mary moved into her new studio in the Old College in January 2013 and before that was based in one of the Arts Centre's Creative Units.
Mary adds; "I am extremely passionate about the Old College and want to see it reach its full potential.
"I am working closely with the University to see that this vision of transforming the Old College into a cultural quarter comes to life and I am excited by the possibilities."
Aberystwyth University's Vice Chancellor, Professor April McMahon said; "We are very proud that Mary has chosen to locate her studio at the Old College and that she is also a Fellow of the University and a strong advocate for its future development. She is a distinguished and highly acclaimed visual artist and a painter of immense originality."
In early 2015, the University will be launching a consultation process on the development of the Old College and inviting members of the public to get involved. Individuals with an interest in participating should e-mail the University on oldcollege@aber.ac.uk
An Old College Coordinating Officer position has also been advertised internally at the University recently which will develop and deliver key aspects of the Old College Project along with implementing and coordinating the Old College Project Plan.
Louise Jagger, Director of Development and Alumni Relations, explains; "Working with Mary has been an absolute pleasure and the work she has done championing the Old College both nationally and internationally has been phenomenal.
"We will be consulting widely on plans for the development of the Old College and we will also be inviting the public to have a say on its future.
"It's a building that has played such a seminal role in the development of Aberystwyth as a town and is also held in great affection by many people.
"Mary has shown us what can be achieved by working in partnership with individuals and organisations and we look forward to developing our relationship with her, the local community and beyond."
The Old College is open from 8am to 7.45pm from Monday to Friday and between 10am-4pm on Saturday.
AU52014