Innovation and Enterprise Campus secures £20m funding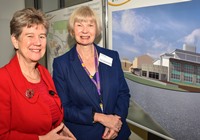 Welsh Government Minister Jane Hutt (left) and Professor April McMahon Vice-Chancellor of Aberystwyth University
The Welsh Government's Finance and Government Business Minister Jane Hutt has announced that Aberystwyth University will be the first multi-million pound project to receive the green light through the new £2 billion EU funding programmes 2014-2020.
The Finance Minister visited the University's Gogerddan Campus to announce £20m of EU investment through the European Regional Development Fund to help develop the Aberystwyth Innovation and Enterprise Campus (AIEC).
The project at the Gogerddan Campus, with an estimated value of more than £35m, will see the construction of a new state-of-the-art, internationally recognised facility to attract further research funding so that companies and researchers can undertake collaborative research projects to boost the bio-economy. The research is expected to generate innovative new products, services and spin-out companies in sustainable food, health, biotechnology and renewable energy sectors.
Finance Minister said: "I am delighted to announce this EU investment for Aberystwyth University, which marks a significant milestone being the first scheme to be awarded EU funds from the new EU programmes 2014-2020. These programmes will greatly benefit Wales, helping us to continue to achieve our goals of building a thriving and prosperous economy. We will utilise EU Funds to drive research and innovation, boost businesses, increase renewable energy and energy efficiency as well as support infrastructure, skills and help people into work.
"This first EU investment will help build a world-class facility to attract private and competitive research funding so that Wales can lead the way in developing new cutting edge technologies, products and services in the biosciences sector, which is vital for increasing jobs and growth in the knowledge economy of our nation."
Initiatives planned for the AIEC include:
Centre for Food, Nutrition and Energy Security
Future Food Centre
Bio-refining Centre
Seed Biobank and Processing Facility
Interdisciplinary Centre for the Bioeconomy
Professor April McMahon, Aberystwyth University's Vice-Chancellor, said: "We are grateful for the substantial contribution of EU funds that, together with considerable support from BBSRC, and the University, will see the realisation of our ambitious plans for the Innovation and Enterprise Campus at Gogerddan.
"I am confident that the development will ensure that the University continues to deliver research with impact, provide a platform for working alongside industry in developing solutions for global problems, and bring much needed jobs and growth to West Wales."
The AIEC project will work closely with the University's Institute of Biological, Environmental and Rural Science (IBERS) where research is already underway to tackle global challenges such as food security, bioenergy and sustainability, and the impact of climate change. The project will also support the University's ambitions for greater interdisciplinary working, for example, drawing on the research strengths and expertise within the School of Management and Business, and the Institute of Mathematics, Physics and Computer Science.
Pro-Vice Chancellor for Research, Professor Chris Thomas added: "We will be taking an explicitly interdisciplinary approach in this development, by bringing together not only different areas of biology and agriculture, but also, for example, environmental science, geography, remote sensing and computer science. The commercial focus also means we have an outstanding opportunity for our academic colleagues in law and business to work with industrial partners from early stages in a project. The key thing is to bring everyone together in a shared, well-equipped space. The AIEC is designed to do just that."
The AEIC project is also backed with £12m from the Biotechnology and Biological Sciences Research Council (BBSRC). IBERS also receives around £10.5m strategic funding from BBSRC each year.
AU54314