Tributes paid to Professor John Rowlands
25 February 2015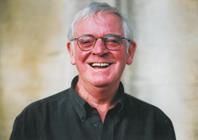 Professor John Rowlands
We note with sadness the death of Professor John Rowlands, former Professor at the Department of Welsh at Aberystwyth University.
Originally from Trawsfynydd in Gwynedd, Professor Rowlands graduated with first class honours in Welsh from the University of Bangor in 1959. He continued in Bangor for another two years where he completed an MA on 'Delweddau Dafydd ap Gwilym' (The Images of Dafydd ap Gwilym).
He received a University of Wales Fellowship for further study at Jesus College Oxford between 1961 and 1963, and he was awarded his DPhil (Oxon) for 'A Critical Edition and Study of the Welsh Poems Written in Praise of the Salusburies of Llyweni', which was published 1967.
Between 1963 and 1974 he lectured at Swansea University, Trinity College Carmarthen, and St David's University College Lampeter, and in 1975 he was appointed lecturer for the Department of Welsh at Aberystwyth. He was promoted to Senior Lecturer in 1976, to Reader in 1992 and Professor in 1996. He continued to work at Aberystwyth University until his retirement in 2003.
Paying tribute to Professor Rowlands, Dr Robin Chapman, Acting Head of the Department of Welsh said: "Everyone in the Department has been shaken by the news of John's death, and we have spent the day recalling our own personal memories of him. We are agreed on one thing: we have lost a friend as well as a colleague.
"Many could be justly proud of having achieved just a fraction of what he did. He was a talented musician (we will long remember his piano accompaniments in departmental Christmas parties). He knew and wrote with insight on food and wine. He was a ground-breaking novelist - almost the only example of and Angry Young Man in Welsh literature at the beginning of his career and a master of tragic and comedic fiction in later years. As a critic he taught generations of students to look beyond the personality of writers to concentrate on texts and contexts. He was a painstaking, creative editor who enhanced every piece of writing he touched. As a lecturer and professor, he had a profound influence of dozens of Wales's leading writers and academics.
"And he was, of course, a loving husband and father. We extend our sympathy to Luned, his children and grandchildren."
AU7915
Back to the top
Contacts
Arthur Dafis
Communications, Marketing and Public Affairs
Aberystwyth University
01970 621763 / 07841979452 / aid@aber.ac.uk