Alumnus awarded JIBS Student Prize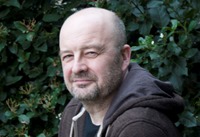 John Taylor, winner of the JIBS Student Prize for his outstanding research-based project Photo by John Martin.
Aberystwyth alumnus John Taylor was recently awarded the JIBS Student Prize for his outstanding research-based project.
A former MSc Econ student in the Department of Information Studies at Aberystwyth University, John's dissertation, entitled "A survey of bibliometric tools and techniques and their applications for technology forecasting" was nominated by the Department for the annual prize.
His work was described by the judging panel as "very well written, with clear objectives and with an excellent literature review. It was an innovative and interesting way of using bibliometrics in an ultimately practical context."
Congratulating him on his success, Professor Andy Henley, Director of the Institute of Management, Law and Information Science at Aberystwyth University said; "We are delighted that the JIBS award has gone to John. It is a fantastic achievement to have been awarded the prize for the best bachelor's or master's dissertation across the UK for information professionals in the the higher education sector. It is a just reward for the hard work and dedication he showed during his studies and we wish him the very best for the future."
JIBS represents users of bibliographic databases and related products available to the UK HE, FE and Research Council communities via national site-licence arrangements.
The Department of Information Studies (DIS) at Aberystwyth University provides top quality research, education and training in information, archive, library and heritage studies – including over 25 years delivering distance learning programmes. In 2014 the Department also celebrated 50 years of delivering full-time courses with a network of alumni around the world. It offers undergraduate and postgraduate qualifications aswell as a range of Short Courses for continuous professional development (CPD).
You can read John's dissertation here, http://www.jibs.ac.uk/prize/taylorjohn2014.pdf