Counting the ways to GCSE success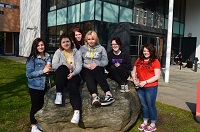 It all adds up – students at this week's GCSE revision week take a well-earned break
This week, Aberystwyth University is welcoming young people from across Ceredigion and Powys to its GCSE Mathematics Revision Week.
During the four-day residential course, over 80 young people will be staying at the University and brushing up on their mathematics ahead of their GCSEs this summer.
Dr Debra Croft, Manager of the University's Centre for Widening Participation and Social Inclusion, explained: "Every year we welcome young people to the study school and provide them with the support and encouragement to develop their numeracy skills, and practice examination techniques, ahead of their GCSEs.
"The course is targeted towards individuals who are on the cusp of achieving a C grade in their GCSE maths, but need some support to ensure that they are able to achieve the grades needed to progress their studies further. We work with young people from backgrounds who are unlikely to have the funds to support private tuition or extra lessons, and provide a welcoming and safe environment for them to concentrate their learning and get to know other young people from across Wales."
Participants' learning will be supported by a range of University staff and students. Every six students will be allocated a tutor, students from the Science Departments, largely Mathematics Physics, who received training from the Centre for Widening Participation in teaching and tutoring skills.
Debra elaborates: "In addition to providing an excellent learning experience for participants, it also provides an opportunity for our University students who wish to develop their employability skills, and gain experience of teaching. A total of 28 students are working with the young people, half of whom will be working as tutors and the other half working as student leaders organizing the sports and social activities."
The residential course is offered in both Welsh and English and participants will have first hand experience of university life as they stay in student residences on campus and participate in organised activities.
The Centre for Widening Participation and Social Inclusion works to remove the barriers to Higher Education, whether physical, social, cultural or financial. The team works with schools and communities and supports the University's ambition to create opportunities and improve accessibility to Higher Education.
AU12815