'The Politics of Spirit: Bringing the Arts to bear on the world at large'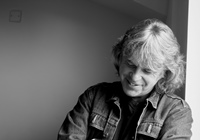 Damian Gorman
The second annual public lecture for the Institute of Literature, Languages and Creative Arts (ILLCA) will be hosted by Aberystwyth Arts Centre in Theatr y Werin on Monday 20th April 2015 at 7.00pm.
'The Politics of Spirit: Bringing the Arts to bear on the world at large', will be presented by Northern Irish poet and playwright Damian Gorman who has been described as "Ireland's best-kept secret".
Damian Gorman's work has garnered many awards over the past 25 years, from a Better Ireland Award to an MBE; a Golden Harp to a BAFTA. His verse documentary for BBC 2 Devices of Detachment - which explored the role of non-combatants in the Troubles - was hailed in the national press as "a television masterpiece", and his innovative recent series of online poems Considerations was described by Neil Astley as "powerful, humane, moving - everything that video poetry should be".
In a world of urgent and conflicting demands, of narratives at war with each other, the idea that the creative arts matter is not a given. It can seem too flimsy, indulgent and inward-looking. But is it true, or more-true-than-not? Do the arts have much to offer in the world at large?
Writer Damian Gorman has taken these ideas and tested them in his work, particularly in his native Northern Ireland and in other areas of conflict. In this talk he will explore the redress of art, especially in areas where its work is cut out for it.
Sarah Prescott, Director of ILLCA said: "I am delighted that Damian Gorman has agreed to deliver the second Annual Lecture for ILLCA and on such an urgent topic for anyone involved in literature and the creative arts. Damian has already been working with students across the Institute and is leading the ILLCA/Aberystwyth Arts Centre community-focused collaboration 'One Day in Aberystwyth'.
This event is open to all and free to attend with no prior booking required.
Damian is currently working on a ground-breaking community writing project in conjunction with Aberystwyth Arts Centre.
Institute of Literature, Languages and Creative Arts (ILLCA)
The Institute of Literature, Languages and Creative Arts (ILLCA) was created in 2013 and combines academic departments and centres of cultural excellence. ILLCA's research and teaching profile sits within five distinctive but cognate departments: the School of Art, English and Creative Writing, European Languages, Theatre, Film and Television Studies, Welsh and Celtic Studies. ILLCA is also home to the award-winning Aberystwyth Arts Centre and the University Music Centre.
ILLCA has also built on the collaborative scholarly endeavours of its academic departments and its unique location through the creation of two international research centres: The Centre for Cultural Translation and the Centre for Cultures of Place.
ILLCA's distinctiveness is derived from the unique synergy between research excellence, research-led teaching and world-leading creative practice. Through a close working partnership with Aberystwyth Arts Centre and collaborations with other industry partners, departments within of ILLCA are uniquely placed to offer some of the best industry links and graduate employability in the UK.
AU11515