Aberystwyth students scoop BBC #newsHACK award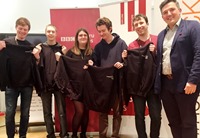 Left to right: Members of Aberystwyth University's winning team '//no Comment'; Cormac Brady, Nicholas Dart, Laura Pugh, Owen Garland and Xander Barnes receive BBC hoodies from Robin Pembrooke Head of Future Media at the BBC.
A team of Aberystwyth University students have won themselves a visit to the BBC's MediaCity facilities in Salford, Manchester, and future mentoring opportunities, following their success in the BBC's #newsHack competition.
Computer Science students Xander Barnes , Cormac Brady, Nicholas Dart and Owen Garland, and English and Creative Writing student Laura Pugh won the best overall entry for their 'bbc village' idea in #newsHACK Wales, which was held over two days at Y Galeri, Caernarfon in March.
The Aberystwyth team was announced as overall winners for Wales, following a similar #newsHack event in Cardiff attended by south Wales based universities.
The teams were set a task of creating a location-aware, personalised News experience that shapes itself around the user.
Working under the name '//no comment', the Aberystwyth team developed a system that would find out what news people in a particular area were talking about, so that the user could find out about it too.
As well as visiting the BBC studios, members of '//no comment' will be offered a personal BBC Cymru Wales Buddy to share their knowledge and experience of the industry, and discuss employment opportunities.
Speaking after their success, team member Cormac Brady said: "News Hack was a great event to work in a group, towards an exciting goal and under immediate pressure to have it completed in less than 48 hours. We met lots of interesting people from both the BBC and other universities across Wales. We performed well as a team and managed to design and create a good news sharing and aggregation platform around the idea that 'Local news isn't necessarily what's happening around you, but what people around you are talking about.' We're all ecstatic to be named overall champions of the Welsh BBC News Hack!"
Also representing Aberystwyth University at #newsHACK Wales was 'Ginger and the Onions'. Team members Christopher Krzysztof Ilkow, Filip Zajac, Artur Powroznik and Kamil Mrowiec from the Department of Computer Science, and Jessica Hearne from the Department of English and Creative Writing produced a location and chosen-content-type aware news feed.
Senior Lecturer at the Department of Computer, Lynda Thomas, said: "I was really proud of both teams. They came up with innovative ideas and produced working systems - a credit to the University."
Writing in the BBC's News Lab Blog, a BBC spokesperson said: "With a great mix of Computer Science and Journalism students in the teams, we were very pleasantly surprised by the quality of the presentations, but also by how well the projects were angled, from a BBC audience-driven perspective."
AU13315