2015 General Election Hustings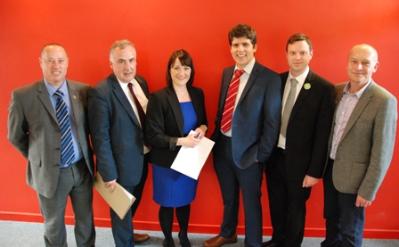 L-R Gethin James (UKIP), Mark Williams (Liberal Democrats), Sara Gibson (Chair), Huw Thomas (Labour), Daniel Thompson (Green Party) and Mike Parker (Plaid Cymru).
Ceredigion's General Election candidates debated policies and answered questions in front of a packed audience at a hustings session hosted by Aberystwyth University on Thursday night (16 April 2015).
Organised by the University's Institute of Welsh Politics, and the Institute of Welsh Affairs, and chaired by Sara Gibson, BBC Cymru Wales, five of the constituency's hopefuls were in attendance in the Department of International Politic's Main Hall on the Penglais Campus. The Conservative Party candidate, Henrietta Hensher was not present due to personal matters.
Following an opportunity to hear each candidate's Election pledges, audience members were given the chance to quiz each party representative on issues ranging from sustainability and the environment to the local economy.