Aberystwyth teams take on Cyber 9/12 Student Challenge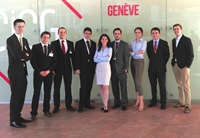 Members of the teams from Aberystwyth University taking part in Cyber 9/12 Student Challenge in Geneva this week, with Dr Madeline Carr from the Department of International Politics.
Two teams of International Politics students at Aberystwyth University have travelled to Geneva this week, to compete in the Cyber 9/12 Student Challenge.
The postgraduate Masters team is comprised of Grant Alger, Maihanna Murphy, Ian Goertz and Andrew Gilbert.
In the undergraduate team are Alain Bouwman, Chris Dennett, Nickolas Bruetsch and Sam Smales.
Cyber 9/12 Student Challenge is being hosted by the Atlantic Council and the Geneva Centre for Security Policy.
The competition is the first student cyber policy crisis game held in Europe.
A crisis game is a simulated crisis event, testing students on how they would respond to events if they were to happen in reality.
The teams compete over two days, Wednesday 22 and Thursday 23 April, as the crisis escalates.
The Cyber 9/12 Student Challenge is designed to offer students a better understanding of policy challenges associated with cyber conflict.
Teams are judged on the quality of their policy responses, decision-making processes and their oral presentation to a panel of judges.
Amongst the judges are the Head of Cyber Security for the United Nations Telecommunications Union, Assistant Secretary General for Emerging Security Challenges (NATO) and Head of ICT Government Community for the World Economic Forum.
Whilst in Geneva the two teams will be addressed by the President of Estonia, Toomas Ilves. Estonia has first-hand experience of a large scale cyber-attack.
International Politics lecturer Dr Madeline Carr said: "This is an amazing opportunity for our Cyber Politics students to test their knowledge and understanding against a global field of competitors. But it's also an incredible opportunity to make friends who will likely end up working in a similar sector and to network with some of the world's most influential people in Cyber Security policy."
AU14715