Sign up for Aberystwyth's Virtual Open Day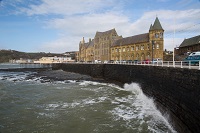 Prospective undergraduate and postgraduate students will be able to experience what Aberystwyth University has to offer from the comfort of their own homes on Thursday 30 April, when the University hosts its Virtual Open Day.
Between 6pm and 8pm, prospective students will be able to log on and learn about all aspects of life as a student in Aberystwyth, and put questions to current students and staff using 'live chat'.
Amongst the areas covered by the Virtual Open Day are; Applying to Aberystwyth, Fees and Funding, Scholarships and Bursaries, Accommodation, the Careers Service, the Students' Union and Student Support Services.
There will also be an opportunity to follow virtual online accommodation and campus tours.
Prospective students will also be able to choose whether they wish their visit to be through the medium of English or Welsh.
Professor John Grattan, Pro-Vice Chancellor for Student Experience and International at Aberystwyth University said: "The Virtual Open Day gives prospective students who can't attend our usual open days in person a great chance to see what Aberystwyth University can offer them. This is an excellent opportunity to listen to talks and view the campus and accommodation, as well as the chance to ask current students what makes their University experience at Aberystwyth so special."
Prospective students wishing to register for the event can do so right up until the day of the event itself. Further details about registering are available online.
As well as the Virtual Open Day, Aberystwyth will be hosting four campus based Open Days this year, on Wednesday 1st July, Saturday 12th September, Saturday 17th October and Saturday 7th November.
Further information about how to register to attend the Open Days is available at http://www.aber.ac.uk/en/open-days/.
Aberystwyth University is currently investing over £100m in new learning and teaching, research and accommodation facilities. The investment programme includes the £45m Fferm Penglais student residences which will offer some of the best accommodation available in any university in the UK, and £8.1m in new learning and teaching facilities.