Former Australian Prime Minister Julia Gillard honoured as Fellow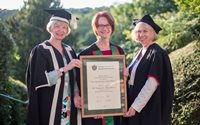 Aberystwyth University Fellow, The Honourable Julia Gillard (Centre) with Professor April McMahon, Vice-Chancellor (left) and Dr Jenny Mathers, Head of the Department of International Politics (right)
The Honourable Julia Gillard, the 27th Prime Minister of Australia, was conferred as Fellow of Aberystwyth University on Tuesday 30 June.
Ms Gillard was at the University to deliver a lecture entitled "A Conversation with Julia Gillard: Education and Our Future".
Honorary Fellowships are awarded to honour individuals who have, or have had a connection with Aberystwyth or Wales in general, and who have made an outstanding contribution to their chosen field.
Ms Gillard was presented by Dr Jenny Mathers, Head of the Department of International Politics at Aberystwyth University.
Presentation of the Honourable Julia Gillard as Fellow of Aberystwyth University by Dr Jenny Mathers
"Welsh by birth and Australian by upbringing, Julia Gillard trained in Law, studying first at the University of Adelaide and then at Melbourne University, combining academic success with holding office as Vice President and then President of the Australian Union of Students.
After finishing her degree in 1986, Ms Gillard joined the law firm Slater and Gordon, where she became a partner in 1990, and where her work focused mainly on employee rights after unfair dismissals and workplace disputes.
Ms Gillard was active in the Australian Labor Party since the late 1970s, and in 1996 she became the Chief of Staff to the Opposition Leader John Brumby, serving in that capacity for two years before being elected to her own seat in Parliament. In 2001 she was appointed Shadow Minister for Population and Immigration and in that capacity drafted the party's policy on refugees and asylum seekers. In 2003 she took on the responsibilities of the Reconciliation and Indigenous Affairs Committee. She then served as Shadow Minister for Health from 2003 to 2006.
In 2006 Ms Gillard became Deputy Leader of the Australian Labor Party, combining that role with responsibilities as the Shadow Minister for Employment and Industrial Relations and Social Inclusion. After Labor successes in the 2007 election, she became Deputy Prime Minster – the first woman to hold that position in Australia – and Minister for Education, Employment and Workplace Relations and Social Inclusion, where she played a key role in reversing legislation that limited the power of trade unions.
In 2010 Ms Gillard was elected leader of the Australian Labor Party and became Australia's first woman Prime Minister. She served as Prime Minister for three years, weathering many political storms and more than holding her own at the top of Australian politics, where the political culture might best be described as brutal. Anyone seeking an insight into the everyday political environment she experienced is advised to watch her 'misogyny' speech of 2012. To quote from an article in the New Yorker about the speech, Ms Gillard "cut through the disingenuousness and feigned moral outrage of her opponent to call him out for his own personal prejudice, hypocrisy, and aversion to facts". The speech is available on YouTube, and many women around the world have found inspirational. As Ms Gillard writes in her memoirs: "In contemporary Australia, despite so much progress being made, both women and men continue to be trapped in gender prisons. As Australia's first female prime minister, I came to see the outlines of the bars of mine."
Ms Gillard's achievements while in office were many and included a comprehensive reform of the Australian education system, improving the provision of health care and greatly expanding the provision of internet access across the country. She strengthened Australia's relations with several key nations in Asia, included China, India, Japan, Indonesia and South Korea.
Since leaving office Ms Gillard has not slowed her pace of work appreciably. She has written her memoirs, which was published last year, and serves in senior roles in many organizations in Australia and around the world that work to further the cause of education and thus to improve the lives of young people. Perhaps most notable in this respect is her chairmanship of the Global Partnership for Education, which is committed to getting all children into school for a quality education in the world's poorest countries.
Is-Ganghellor, mae'n fraint ac yn bleser gennyf gyflwyno i chi yr Anrhydeddus Julia Gillard yn Gymrawd Prifysgol Aberystwyth.
Vice-Chancellor, it gives me great pleasure to present to you the Honourable Julia Gillard as Fellow of Aberystwyth University.
AU20915