Aberystwyth University hosts visit by Korean Wales Christian School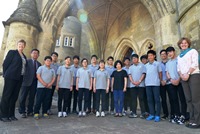 Korean Wales International Christian School students outside the Old College, in the company of Rachael Davey, Director of the International English Centre at Aberystwyth University (far left), Principal Daniel Sung and Vice Principal Heeyun Choi (centre) and Sarah McKenna from the International English Centre (far right).
The International English Centre at Aberystwyth University has this week been hosting a visit by the Korean Wales International Christian School which is based near Seoul.
Fourteen pupils from the school, accompanied by Principal Daniel Sung and Vice Principal Heeyun Choi are currently visiting Wales as part of a month long visit to the UK.
During their time at Aberystwyth they have attended an interactive workshop at the Department of International Politics, a practical film making session at the Department of Theatre, Film and Television Studies, seen the latest developments at the Department of Computer Science and visited the University's Schools of Education and Management and Business.
They also visited Penglais School where they shared assembly and classes and met the Headmaster, Matthew Brown, and visited the National Library of Wales.
Korean Wales Christian School was founded in 2008, but the link between Wales and Korea dates back to 1866, when Welsh missionary Robert Jermain Thomas spread the first seeds of Protestant teachings in East Asia.
Principal Sung relates that, as Thomas lay dying, he handed his bible to a Korean soldier. The soldier, not knowing the significance of the bible, used the pages as wallpaper for his home. Gradually, as he read this wallpaper, he was touched by God's grace and ultimately converted.
While Thomas has been largely forgotten in his native land, he is revered in Korea, and every year hundreds of Koreans make a pilgrimage to Thomas' former home near Abergavenny.
Principal Sung and his students made the pilgrimage to Hanover Church earlier this month, and met with its newly appointed Korean Pastor, Reverend Daniel Yoo.
It was this spiritual connection which first drew Daniel Sung to study in Wales. Upon his return to South Korea he was determined to strengthen the ties between the two nations.
Inspired by his Christian beliefs and his experience of British education, Daniel Sung founded the Korea Wales International Christian School (KWICS) in 2008 and is now its Principal.
According to Daniel Sung, the philosophy of KWICS is 'whole person education', in contrast to the typical Korean educational approach, which he considers to be overly focussed on preparing students for university entrance exams.
In addition to teaching a full academic curriculum, KWICS encourages pupils to engage in community service, international travel, artistic and musical activities.
Principal Sung's vision is to develop school-leavers who have an ethical and global outlook, and a desire to contribute to both Korean and Welsh society.
His own experience as a student in Wales was that "the people there are warm, kind and make you feel welcome"
Principal Sung hopes his students "can continuously go to Wales for their studies and while there, return the favour of Welsh missionary Robert Jermain Thomas by supporting and serving the local community".
Rachael Davey, Director of the International English Centre, visited KWICS in December 2014 to formalise the partnership between the school and Aberystwyth University through the signing of a Memorandum of Understanding.
Ten students from KWICS will be progressing to undergraduate degrees at Aberystwyth University in 2015, with the partnership set to grow.