New Life for the Old College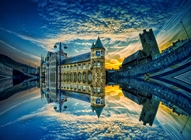 The Old College
Members of the public are invited to give their views on redevelopment plans for Aberystwyth University's Old College on Tuesday 7 July.
Dr Rhodri Llwyd Morgan, Pro Vice-Chancellor and Louise Jagger, Director of Development and Alumni Relations at Aberystwyth University will be at the Old College between 5.30pm and 7.30pm to discuss the project and initial proposals.
Originally built as a hotel by railway contractor Thomas Savin, the Old College was purchased by the Welsh University committee for £10,000 in 1867, a fraction of the amount it had cost to build. The first students arrived in October 1872.
Initial proposals for the 'New Life for Old College' project include plans for a range of community facilities such as, exhibition space, artists' studios, University museum and shop, community/performance spaces, a café/restaurant and commercial spaces for small businesses as well as a range of provisions for students and for academic use.
The proposals extend beyond the Old College itself and include developments for The Assembly Rooms and other University buildings in the area.
The total project could mean a multi-million pound investment phased over the years up to an official opening during the University's 150th anniversary in 2022.
Speaking ahead of the consultation, Dr Rhodri Llwyd Morgan said: "The views of the people of Aberystwyth and the wider community are important to the development of the project at this important stage of our planning as we start to firm up options and fundraising plans.
"We very much look forward to hearing people's views on our plans for realising our vision of developing the Old College as a dynamic hub of learning, heritage and culture that will provide excellent facilities for the University and for the people of Aberystwyth and beyond."
AU20015