Twelve individuals to be honoured during Graduation 2015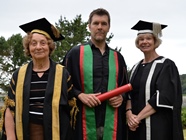 Rhod Gilbert was one of the Fellows presented during Graduation 2014
Aberystwyth University will honour twelve individuals during Graduation Week 2015 which takes place over four days, from Tuesday 14 until Friday 17 July, at Aberystwyth University's Arts Centre.
Eight Honorary Fellowships will be presented to individuals who have, or have had a connection with Aberystwyth or Wales, and who have made an outstanding contribution to their chosen field.
This year's Graduation Week ceremonies will mark the introduction of two new honours; Doctorate honoris causa and Bachelor of Arts honoris causa / Bachelor of Science honoris causa.
Two Honorary Doctorate degrees and two Honorary Bachelor degrees will be presented.
Honorary Doctorate degrees recognise individuals who have been outstandingly successful in their field, or who have a long record of renowned research and publication.
Honorary Bachelor degrees are conferred on individuals who are members of Aberystwyth University staff without an entry-level degree in recognition of long-service, contribution and dedication to the Institution; and members of the local community who have made a significant contribution to Aberystwyth and the area.
Professor April McMahon, Aberystwyth University's Vice-Chancellor said: "Graduation is the highlight of the year at Aberystwyth University, the time when we celebrate the hard work and achievements of our graduates and wish them well as they embark on their careers.
"It is also an opportunity to mark the successes of people who have excelled in their particular fields and have made a considerable contribution to Aberystwyth, to Wales, and beyond. I am delighted that this year such a distinguished and interesting group of new Fellows have accepted our invitation; and it is an honour for us to be presenting our first candidates for Honorary Doctorate and Honorary Bachelor Degrees. I am sure our students and staff will be proud to share a platform with them during Graduation Week."
The following will be presented at this year's Graduation ceremonies.
Honorary Fellowships
Eurwen Richards
Having studied at and worked for Aberystwyth University, Eurwen went on to become the first female Cheese Master in the UK. After working in the Dairy Department at Aberystwyth, she went on to work as a senior food technologist at Marks & Spencer, specialising in dairy products and Dairy Crest as the Head of the Quality Assurance Department. Eurwen has been the President of the Society of Dairy Technology and has won numerous awards, including from the: British Cheese Board (Life-time Achievement); British Cheese Awards (Cheese Person of the Year) and World Cheese Awards (Exceptional Contribution to Cheese). The Royal Welsh Agricultural Society has named an award after her – 'The Eurwen Richards Award for the Best Welsh-produced Cheeses'.
Eurwen Richards will be presented during Ceremony 1 on Tuesday morning, 14 July.
Professor Robin Williams CBE
Professor Robin Williams was Vice-Chancellor of Swansea University from 1994-2003. A researcher in semiconductor physics, advanced electronic devices and nanotechnology, he was inducted as a Fellow of the Royal Society and awarded a CBE in 2004 for contribution to research in higher education. He is Vice-Chair of 'Techniquest', Council member for the Science Advisory Council for Wales, HEFCW, the Engineering Education Scheme in Wales and the Learned Society for Wales. Professor Williams is also a Council member for the Higher Education Funding Council for Wales, and a member of the advisory board for Centre for Advanced Functional Materials and Devices at Aberystwyth University.
Professor Robin Williams will be presented during Ceremony 1 on Tuesday morning, 14 July.
Professor Miguel Alario-Franco
Professor Franco has held the prestigious post of President of the Royal Academy of Sciences of Spain. He was formerly Head (later Dean of Chemical Science) of Inorganic Solid State Chemistry at Universidad Complutense Madrid (UCM), where he is now Professor Emeritus. He worked at the University College of Wales, Aberystwyth, for two and a half years from 1972 onwards. He is also an Honorary Academic at the Academy of Sciences of Colombia, founder of the Solid State Chemistry Group in UCM, and founder and first president of the Solid State Chemistry Group of the Spanish Royal Society of Chemistry. He has also authored four patents and 290 research papers that have been cited on over 3000 occasions.
Professor Miguel Alario-Franco will be presented during Ceremony 2 on Tuesday afternoon, 14 July.
Lord Bourne of Aberystwyth
Lord Bourne (LLB and LLM) is a Lord in Waiting (HM Household) (Whip) and an alumnus of Aberystwyth University. After the 2015 General Election he was appointed Parliamentary Under Secretary of State for the Department of Energy and Climate Change, and the Wales Office. Lord Bourne continues to have a substantial connection with the University. He is a member of the Advisory Board of Aberystwyth's Centre for Welsh Legal Affairs as well as the Honorary President of Aberystwyth Conservative Future.
Lord Bourne will be presented during Ceremony 3 on Wednesday morning, 15 July.
Debbie Moon
An alumna of the University's Drama Department, Debbie has lived in the area since the late 1980s building up a portfolio of writing and screenwriting. She is the creator and principal writer of WolfBlood, a BAFTA-nominated television series currently in its third series on CBBC.  Debbie contributed to the second series of Hinterland and has strong links with the School of Education and Lifelong Learning, Aberystwyth Arts Centre and the wider University.
Debbie Moon will be presented during Ceremony 7 on Friday morning, 17 July.
Dr Francesca Rhydderch
Dr Francesca Rhydderch has a degree in Modern Languages from Newnham College, Cambridge, and a PhD in English Literature from Aberystwyth University. Her début novel The Rice Paper Diaries was longlisted for the Authors' Club Best First Novel Award and won the Wales Book of the Year Fiction Prize 2014. She was also shortlisted for the BBC National Short Story Award in the same year. A former editor of New Welsh Review, she is Associate Professor of Creative Writing at Swansea University.
Dr Francesca Rhydderch will be presented during Ceremony 7 on Friday morning, 17 July.
Dr Lyn Evans
Born in 1945, Lyn Evans has spent his whole career in the field of high energy physics and particle accelerators, participating in all the great projects of the European Organization for Nuclear Research (CERN).  Since 1993 he led the team that designed, built and commissioned the Large Hadron Collider (LHC). He is presently a visiting professor at Imperial College London and Director of the Linear Collider Collaboration. Among his many honours he is a Fellow of the American Physical Society and a Fellow of the Royal Society. He was awarded a Special Fundamental Physics Prize in 2013 for his contribution to the discovery of the Higgs boson.  In 2014 he received the inaugural Saint David Award from Welsh Government.
Dr Lyn Evans will be presented during Ceremony 8 on Friday afternoon, 17 July.
Iolo Williams
Iolo Williams is originally of Llanwddyn in north Powys. After gaining a degree in ecology at the North East London Polytechnic, he worked briefly in forestry and on a hill farm before starting work with the RSPB in 1985. As Species Officer for Wales, his roles included monitoring scarce breeding birds, giving management advice to large landowners and investigating crimes against wild birds. After almost 15 years in this post, he started working for BBC Wales and S4C. As well as more than 20 series for both BBC Wales and S4C, he has presented several network series such as Birdman, Nature's Top 40, Wild Wales and, for the past 6 years, Springwatch, Autumnwatch and Winterwatch.
Iolo Williams will be presented during Ceremony 8 on Friday afternoon, 17 July.
Honorary Doctorate Degrees
Dylan Iorwerth
Dylan Iorwerth is a journalist and an alumnus of Aberystwyth University. After graduating Dylan joined the Wrexham Leader and worked for BBC Radio Cymru's News Department before being appointed BBC Cymru's political correspondent in London. He was co-founder of the Welsh language Sunday paper Sulyn, and of the weekly magazine Golwg in 1988. He has won literary awards at the National Eisteddfod; the Crown in 2000, the Prose Medal in 2005 and the Chair in 2012. He is an author, a presenter on radio and television, and is Directing Editor of Golwg Cyf which publishes Golwg and the online news service Golwg360.
Dylan Iorwerth will be presented during Ceremony 3 on Wednesday morning, 15 July.
Prof Huw Cathan Davies OBE
Professor Huw Cathan Davies is a graduate of Aberystwyth University, receiving a Bachelor Degree in Applied Mathematics in 1965. After leaving Aberystwyth, he studied at Imperial College before being awarded his PhD from the University of London. He went on to serve as a lecturer in the Department of Meteorology at the University of Reading and as a National Academy of Science Researcher at NASA Institute in Virginia. He has also been a member of the Swiss National Research Council, the UK's Natural Environment Research Council, and is a Fellow of the Royal Meteorological Society.
Professor Huw Cathan Davies will be presented during Ceremony 5 on Thursday morning, 16 July.
Honorary Bachelor Degrees
Bryn Jones
Co-ordinator of the Penparcau Community Forum, Bryn Jones helped establish the group after the demise of Communities First. Bryn studied at the Carmarthen School of Art, before 13 years working at the Mental Health NHS Trust Unit in Aberystwyth. He was one of the founding members of 'HAUL' – a local Arts and Healthcare Group established in the 1990s. He has also been Chairman of Borth Community Council and HMS Auxiliary Coastguard member for 10 years, receiving a Valedictory Certificate for the length of service.
Bryn Jones will be presented during Ceremony 6 on Thursday afternoon, 16 July.
Rhian Phillips
Former Head teacher of Plascrug Primary School, Rhian Phillips has a long history and commitment to primary education in the Aberystwyth area.  She is passionate about providing pupils with an excellent standard of education by providing wide and varied learning opportunities both in and outside of the classroom.  An advocate for a global dimension in education, she was appointed International Schools Learning Ambassador for Wales by the British Council and has travelled extensively across Europe presenting in conferences and seminars to promote Global Citizenship and Learning.
Rhian Phillips will be presented during Ceremony 4 on Wednesday afternoon, 15 July.
AU11315