Physicist Dr Lyn Evans honoured as Fellow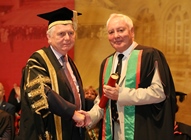 Sir Emyr Jones Parry Chancellor of Aberystwyth University presents Dr Lyn Evans as Fellow
Internationally-renowned physicist, Dr Lyn Evans has been honoured as Fellow of Aberystwyth University.
Dr Evans has participated in all the great projects of the European Organization for Nuclear Research (CERN) and led the team that designed, built and commissioned the Large Hadron Collider.
A Fellow of both the Royal Society and the American Physical Society, Dr Evans was awarded a Special Fundamental Physics Prize in 2012 for his contribution towards the discovery of the Higgs boson.
Born in Aberdare in the South Wales Valleys, Dr Evans received the inaugural Saint David Award in 2014 from the Welsh Government.
Dr Lyn Evans was presented as Fellow on Friday 17 July by Professor Andrew Evans, Head of The Department of Physics.
Presentation of Dr Lyn Evans as Fellow of Aberystwyth University
Canghellor, Is-Ganghellor, darpar raddedigion, gyfeillion. Pleser o'r mwyaf yw cyflwyno'r Dr. Lyn Evans yn gymrawd Prifysgol Aberystwyth.
Chancellor, Vice-Chancellor, prospective graduates and supporters. It is an honour and a privilege to present Dr. Lyn Evans as a Fellow of Aberystwyth University.
Ym mhentref Cwmbach, ger Aberdar y ganwyd Lyn Evans yn fab i lowr, fel llawer ohonom y cyntaf o'r teulu i dderbyn addysg prifysgol, yn elwa o gefnogaeth cymdeithas gref ac agos a phobl dewr a doeth. Lyn Evans was born into a mining community in South Wales, raised and supported by people who shared the strong values and aspirations of the founders of this university. Lyn's achievements would be Cwmbach's highest were it not for its male voice choir who were the first choir to sing before a rugby match at Cardiff Arms Park.
Yn ddisgybl disglair yn Ysgol Ramadeg Aberdar, aeth i Brifysgol Abertawe i astudio Cemeg, ond newidiodd i Ffiseg a derbyn gradd dosbarth cyntaf. Lyn's interest in high energy physics began at Swansea University where he obtained a first class degree and a PhD in lasers and plasmas. He then moved to CERN as an accelerator scientist where, to the envy of all experimental physicists, Lyn got to build and play with the biggest and best toy in the world. The Large Hadron Collider is large, really large. It lives underground in a tunnel that's 27 kilometers long and its job is to accelerate two beams of protons to energies of 7 tera-electronvolts and then smash them together. Rocket science is peanuts in comparison.
The remarkable person who leads a six billion pound project that generates 15 million gigabytes of data each year needs to be far more than a world-leading scientist and engineer. Lyn has managed a team of over 2000 scientists at CERN with 10000 in total across the world waiting eagerly for the results from this fantastic machine. And in 2012, it delivered. The discovery of the Higgs boson is a pinnacle achievement of modern science and technology, and what an accolade to build the machine that led Steven Hawking to say "I had a bet with Gordon Kane of Michigan University that the Higgs particle wouldn't be found … it cost me $100."
Lyn's achievements have received international recognition; he is a Fellow of the Royal Society, Fellow of the American Physical Society and has been awarded the Robert R. Wilson Prize and the Glazebrook Medal of the Institute of Physics. In 2014 he received the inaugural Saint David Award for Innovation and Technology from the Welsh Government.
Lyn is currently heading an international project that is scoping the next generation of particle accelerators and is very active in communication and promoting science to wider audiences, including pioneering initiatives to enable teachers and their students from Wales to visit CERN.
Mae Cymru'n ymfalchio yn llwyddiant ei mab, Lyn Evans, sydd wedi cyfrannu'n allweddol i brosiectau rhyngwladol mawr a phwysig a sy'n parhau i hyrwyddo gwyddoniaeth a thechnoleg i ieuenctid ein Gwlad.
Canghellor, mae'n bleser gen i gyflwyno Dr. Lyn Evans i chi yn Gymrawd Prifysgol Aberystwyth.
Chancellor, it is my absolute pleasure to present Dr. Lyn Evans to you as a Fellow of Aberystwyth University.
Aberystwyth University Honours 2015
Twelve individuals are being honoured by Aberystwyth University during the 2015 graduation ceremonies, which take place at the University's Arts Centre from Tuesday 14 July until Friday 17 July.
Eight Honorary Fellowships will be presented to individuals who have, or have had a connection with Aberystwyth or Wales, and who have made an outstanding contribution to their chosen field.
Two Honorary Doctorate degrees will be presented to individuals who have been outstandingly successful in their field, or who have a long record of renowned research and publication.
Two Honorary Bachelor degrees will be presented to individuals who are members of Aberystwyth University staff without an entry-level degree in recognition of long-service, contribution and dedication to the Institution; and members of the local community who have made a significant contribution to Aberystwyth and the area.
Also being honoured are:
Honorary Fellowships:
• Eurwen Richards, former President of the Society of Dairy Technology and first female Cheese Master in the UK.
• Professor Robin Williams CBE, researcher in semiconductor physics, Fellow of the Royal Society and former Vice-Chancellor of Swansea University.
• Professor Miguel Alario-Franco, researcher in solid state chemistry and former President of the Royal Academy of Sciences of Spain.
• Lord Bourne of Aberystwyth, Parliamentary Under Secretary of State for the Department of Energy and Climate Change, and the Wales Office and an alumnus of Aberystwyth University.
• Debbie Moon, BAFTA award-winning creator and writer of the television series WolfBlood, contributor to the Hinterland television series and an alumnus of Aberystwyth University.
• Dr Francesca Rhydderch, Award-winning novelist, former editor of New Welsh Review and Associate Professor of Creative Writing at Swansea University.
• Iolo Williams, wildlife television presenter of more than 20 series for the BBC and S4C including Springwatch, Autumnwatch and Winterwatch, and former RSPB Species Officer for Wales.
Honorary Doctorate Degrees:
• Dylan Iorwerth, award-winning poet and author, radio and television presenter, founder and Directing Editor of Golwg Cyf and an alumnus of Aberystwyth University.
• Professor Huw Cathan Davies OBE, Fellow of the Royal Meteorological Society, former National Academy of Science Researcher at NASA Institute in Virginia and an alumnus of Aberystwyth University.
Honorary Bachelor Degrees:
• Bryn Jones, co-ordinator of the Penparcau Community forum and founding member of local arts and healthcare group 'HAUL'.
• Rhian Phillips, former Head teacher of Plascrug Primary School and International Schools Learning ambassador for Wales.
AU19715