Excellent customer service recognised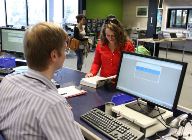 Hugh Owen Library
Aberystwyth University's Information Services (IS) has achieved the Customer Service Excellence Standard (CSE), following a formal assessment in April 2015.
This government standard assesses organisations on the basis of delivery, timeliness, information, professionalism and staff attitude, and is considered an indication of quality and excellence in customer service.
The assessor concluded that (IS) has a very strong leadership commitment towards excellent customer service and that this was reflected by the high rates of satisfaction amongst the users of the services.
Cooperation between IS and other University departments was described as excellent by the assessor who cited as an example the provision of e-learning facilities to provide easier access to course literature.
Feedback from students was overwhelmingly positive with users praising IS staff's positive and helpful attitude: "They are willing to advise and show you again and again, until you feel comfortable about it."
Furthermore, IS has shown to be continually striving to improve their services even further in response to customer feedback and regular consultation with users via focus groups and social media.
The assessors found that the IS staff themselves feel valued in their work and appreciated by peers and managers as well as customers.
The positive result is corroborated by IS' own annual online user survey which also shows an increase in user satisfaction since the previous year.
Nia Ellis, Customer Services Manager at IS said: "Perhaps the biggest improvement has been our recognition of customer needs which has enabled us to develop resources which are more relevant to their needs e.g. longer opening hours, more suitable study areas and inter-site loans."
Elizabeth Kensler, Customer Services Manager, described the accreditation as "a testament to the dedication and helpfulness of all staff in IS."
AU20615