Beagle 2 wins Sir Arthur Clarke award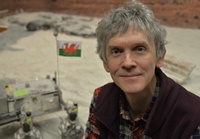 Dr Laurence Tyler, a member of the Space Robotics Group at Aberystwyth University
The Beagle 2 project has won the international Sir Arthur Clarke 2015 award for Industry/Project team.
The Beagle 2 project was led by Professor Colin Pillinger from the Open University and Aberystwyth University space scientist Professor Dave Barnes played a key role in the development of one of the mission's defining features, its robotic arm.
Launched in 2003 and scheduled to land on Mars on Christmas Day of the same year, Beagle 2 was feared lost until earlier this year.
Using 'Shape from Shading' computer software developed by the Space Robotics Group at Aberystwyth University, Dr Laurence Tyler and Dr Matt Gunn at the University's Institute of Mathematics, Physics and Computer Science contributed to the discovery of the partially deployed lander's position on Mars.
The Sir Arthur Clarke Award was presented at the UK Space Conference held in Liverpool on 14 and 15 July 2015.
The award was received on behalf of the whole Beagle 2 team by Professor Mark Sims (formerly Beagle 2 Mission Manager) of the University of Leicester and Dr Jim Clemmet (former Beagle 2 Chief Engineer) of Airbus Space and Defence.
Professor Mark Sims said: "It was a great pleasure to accept the award with Jim Clemmet on behalf of the whole Beagle 2 team. It is a great pity that Colin Pillinger who lead the Beagle 2 project, George Fraser and Dave Barnes who all sadly passed last year are not here to see the award which recognises the extraordinary efforts made by the whole team, industry and academia to design, build, test and deliver Beagle 2 to the surface of Mars."
The Industry/Project Team award is made for significant or outstanding achievements by a team, in all space activities. This includes any activity by a commercial or government organisation that designs, manufactures, supplies or operates space systems, equipment or hardware, or supports and promotes the space industry.
As cited in the award announcement: "Beagle 2 was found on the Martian surface in January 2015, 11 years after being assumed lost, proving that the original calculations and engineering were spot on after all. This mission was only one, or possibly two solar panels away from being an outstanding success."
Dr Laurence Tyler said: "This award rightly recognises the extraordinary accomplishment of the Beagle 2 Team in getting a lander to the surface of Mars, intact, with great technical ingenuity and on a very limited budget. I am greatly pleased that we have been able to play a part in the rediscovery of Beagle 2, and I only wish that Professor Dave Barnes was still with us to share in the excitement."
More information about the winners of the Sir Arthur Clarke Awards 2015 is available here: http://www.bis-space.com/2015/07/17/14936/winners-of-the-sir-arthur-clarke-awards-2015