Aberystwyth takes Mars to Meifod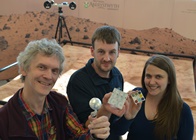 Left to right) Members of Aberystwyth University's ExoMars Rover team Dr Laurence Tyler, Dr Matt Gunn and Dr Rachel Cross with items of the flight hardware developed for the 2018 mission at Aberystwyth University.
A scale version of the entire surface of the planet Mars and a 'selfie' mirror designed for the European Space Agency's 2018 ExoMars Rover mission will form part of the Aberystwyth University sponsored science exhibition at the National Eisteddfod at Meifod from 1 – 8 August.
The model of Mars, which also features a larger scale version of the Gale crater, the area currently being studied by NASA's Mars Science Lab rover 'Curiosity', has been built by space scientists at the Department of Physics at Aberystwyth University using data from MOLA, the Mars Orbital Laser Altimeter.
The Aberystwyth team, led by Dr Matt Gunn, are building the mission's 'selfie' mirror, or Rover Inspection Mirror (RIM), that will enable the ExoMars Rover to take images of itself should it become damaged.
RIM is one of three items of 'flight hardware' that have been developed by the Aberystwyth team for the 2018 mission, and which will be on display at this year's National Eisteddfod.
Visitors to the stand will also be able to remote control and programme mini landers to traverse the Martian landscape, and have their photographs taken using a panoramic camera, as if they were actually standing on the red planet.
Dr Matt Gunn, who is an expert in instrumentation and optics, said: "The work we are doing here at Aberystwyth will have a critical role in the success of the mission's imaging work and will be used by instruments developed for the mission by scientists from the UK, Russia and Switzerland. It's great to be able to show some of this work at the National Eisteddfod and promote some of the excellent space research that is being done here in Wales."
Scientists at Aberystwyth University have long been involved with space exploration. The robotic arm of the recently rediscovered 2003 Beagle2 mission was developed and calibrated by researchers at Aberystwyth, and this work provided the basis for Aberystwyth's current involvement with the ExoMars European Space Agency mission in 2018.
This work also informs study opportunities at the Institute of Mathematics, Physics and Computer Science at Aberystwyth University, including the BSc Space Science and Robotics degree which combines expertise in solar system and space physics with space robotics and artificial intelligence.
For a full programme of events at the Aberystwyth University stall at the Montgomeryshire and the Marches National Eisteddfod 2015 click here.
AU25115